Written by Mercy Achieng'
This was the #HHFL_Family_Fun_Day, organized and planned by the post-secondary HHFL beneficiaries who are now in colleges, universities, technical schools, and some already self-reliant.
The post-secondary graduates and students formed 'HHFLWeAreOne', a 'contribution club' which sprung from our need to become contributors to our own cause.  The club charges a one-time membership fee plus a monthly 5% donation from salaries of those of us who have been lucky enough to get some form of employment. It gives us a platform of giving back and ensuring that all of us remain involved after we graduate and for the remainder of our lives!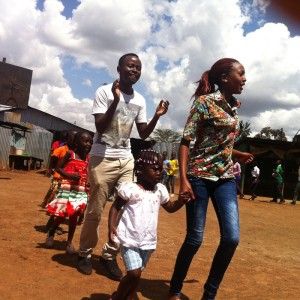 To break the monotony of the monthly meetings, we decided that it would be good if we involved our younger siblings in this months' meeting, but in a unique way; a family fun day!
Our main objectives for coming together on this day were:
To publicize the club's agenda
To bond with everyone including all primary school kids
Re-union
To share experiences on our social and school life
Motivate the grade eight kids who are currently doing their national exams.
Fun & Games!
The day started off well as everyone showed up, ready to bond and have fun. The club members took charge of everything; cooking, general cleaning, grouping the kids into teams, setting up game stations etc. The little one were the 'Guests' of the day and serving them was our task on this special day.
The premise was filled with fun and laughter as we shared our stories from back in the days; this section of the day, we called 'Throwback Time.' The little ones could tell us how we used to be in comparison to what we are now, what we taught them and how they're looking forward to achieving success and to be like us. We then would respond by telling them how living in new environments away from home has changed us and shaped us to be better people. During this session, we could see the eagerness to hear more and the interest they put in wanting to keep sharing and sharing!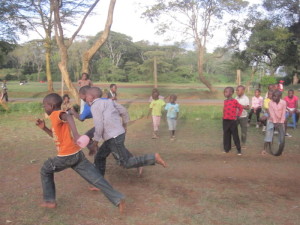 We later had a powerful 'Keep-fit' session with Simon; filled with so much dancing and exercising! Everyone joined in the circle to show their best moves and funny enough the little ones had more dancing skills that the older group! They said 'Mama Margaret's insta porridge keeps us energized and happy. That's why we have these dancing skills!'
A sumptuous lunch prepared by the club members (those taking hotel & catering courses) was later served to our 'guests'. We worked together as a team showing the small kids the importance of teamwork and with the organized way of doing things, we emphasized the need to act out our motto, 'Discipline, Respect and Teamwork'.
After lunch came more dancing for the kids as the older ones cleared tables, cleaned the plates, cleared the compound and set up game stations in the field in readiness for the games session! Potato races, treasure hunting, tug-of –war, fill-the-cup, soccer etc. were among the games played.  We divided ourselves into four groups with a leader (older ones) and an assistant leader (young ones) for each team. The game enjoyed by most of us was fill-the-cup where a team had to fetch water using their hands, pass it to their team members in a line and try to fill the cup. The team that had the highest water level in the cup wins!
To call it a day, we called for our normal parade, recited our motto and had a group photo session!
In conclusion, I can proudly say that this day was a success! It's the first fun day that we've ever organized as the post-secondary group. Others have always been planned by Mama Hanne.
Our objectives were met and we all hope that in the future we'll take this idea to the next level. Many thanks to all the club members who united to make this day amazing and especially to Mama Hanne and Baba Ted who gave us the opportunity to have a 'second family'. We love and cherish you! Asante sana!