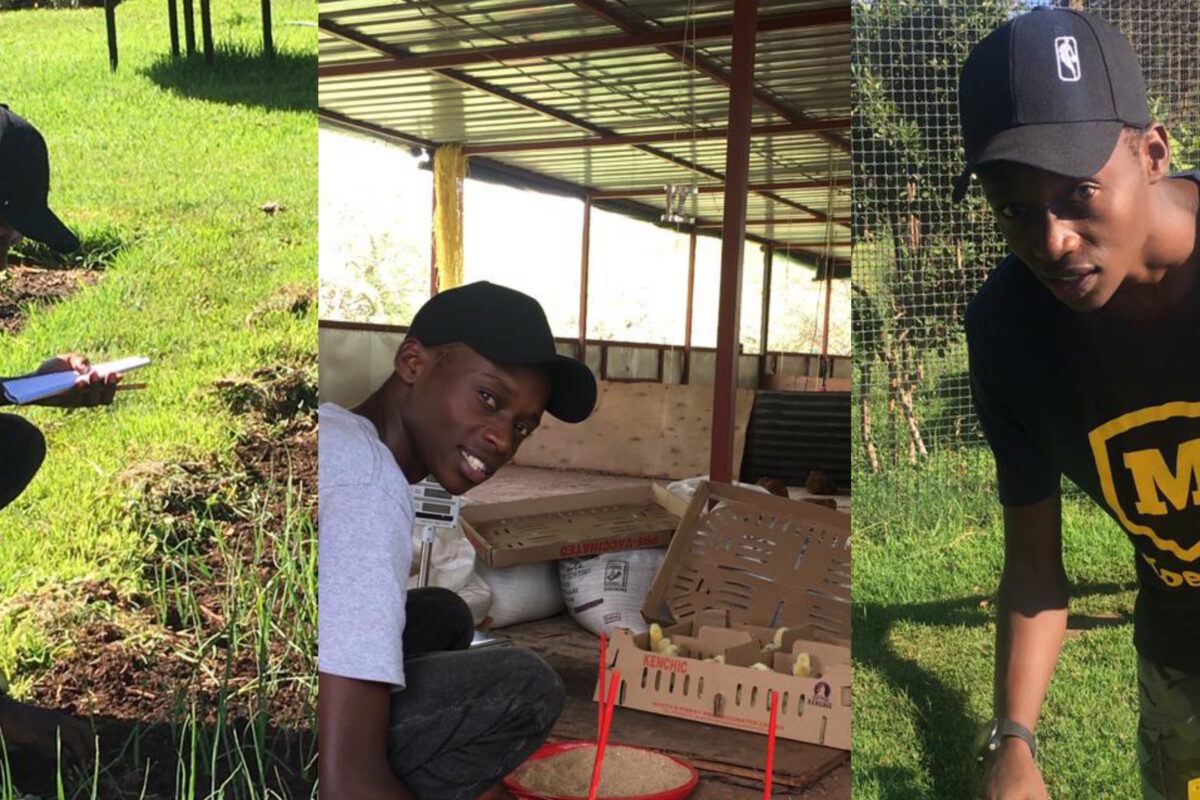 Written by Muli Muasya, HHFL Post-Secondary Student

Hello world, hello friends! I am Muli from HHF-L and here is a little update about my life. We all have that one thing in life that we feel like it's made for us. It can take some time before one discovers it, although with a little bit of interest, self- assessment and taking the right course of action can make the process of realizing what's best for you easier and quicker.
I have always been passionate about Agriculture and everything entailed in it. I had already made up my mind when I was in high school on what to study in college and it was Agriculture. It wasn't that easy for me to keep up with this decision as I watched other students choose other fancy courses and most of them despised agriculture a lot. At times, this made me feel lost as far as my dream career is concerned, but with the interest and passion I had for Agriculture I settled my mind and after high school I applied for Diploma in Agriculture at Kitale National Polytechnic.
When I got my calling letter on 20th August, I talked to Lucy and Isaiah about it and through the HHFL support on 5th September 2022 they allowed me to enroll at the college. During my first holiday break I and shared with father Ted and Mother Hanne on how my studies were fairing and they were excited to hear about it.
In March this year, I got an email from father Ted informing me that he had talked about my career with his friend and recommended me for an Agriculture internship at the friend's Wilderness Farm located in Isioilo. Through the HHF-L support things worked out well and on April 28th , I started my internship at the farm.
It has been a great experience being at the Wilderness Farm. I have gained more than I imagined. I have learned about Agri-protein/ rearing of black soldier fly larvae – something that isn't taught in my course although it's related to Agriculture. I have also taken part in the production of Lucerne pellet which is fed to some of the wildlife animals and horses. Also in the Agricultural engineering part I have taken a step to learn more about farm power which entails the tractor and other agricultural machinery.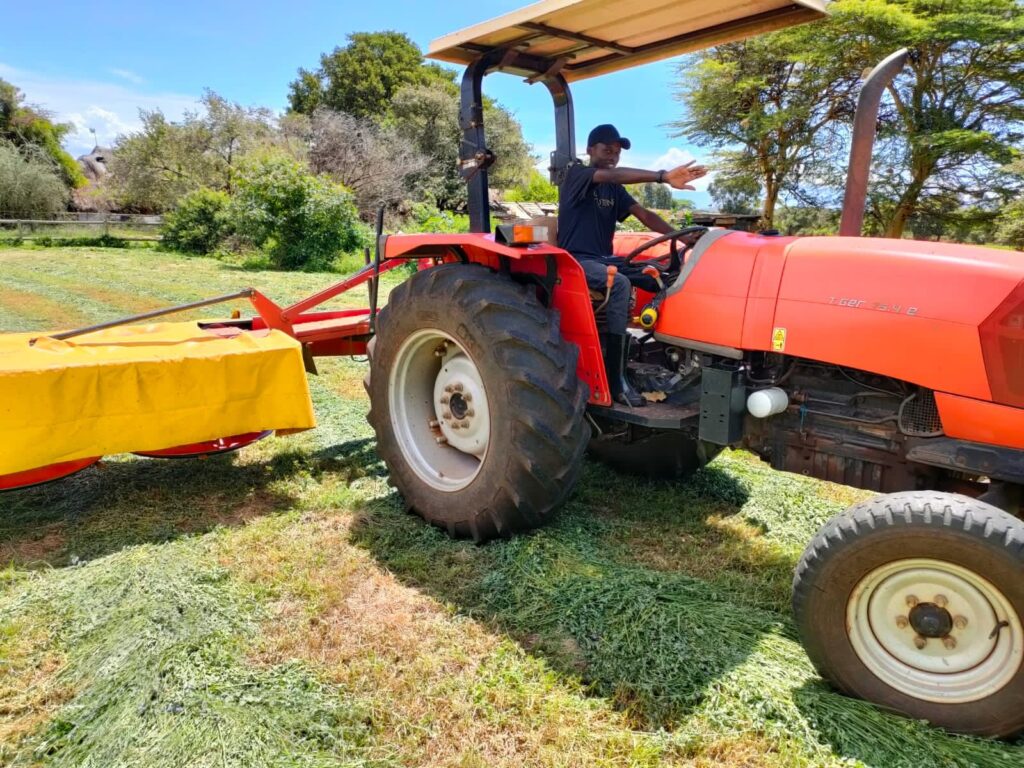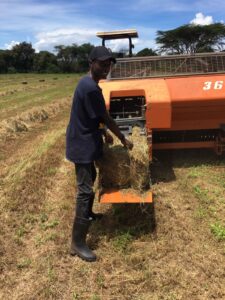 This machine is called a Gallignani Baler. It's an agricultural machine for harvesting, baling and wrapping all types of crops such as straw, hay and silage both in square and round bales. The machine is capable of compacting hay into more easily transported large square bales that could be stacked or loaded on trucks or containers for trucking or export. Depending upon the baler, these bales can weigh from 1,000 to 2,200 pounds. As the pickup revolves just above the ground surface, the tines pick up and feed the hay into the flake forming chamber, where a "flake" of hay is formed before being pushed up into the path of the plunger, which then compresses it with great force against the existing bale in the chamber. Once the desired length is achieved, the knotter arm is mechanically tripped to begin the knotting cycle in which several knotters tie's the 4–6 strings that maintain the bale's shape. I was fascinated by how this machine works and makes Agricultural operations easier and faster.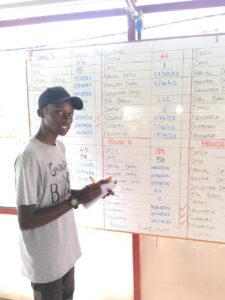 Farm records entails resources, farm products, and day-to-day maintenance of farm production and financial activities of a farm. In every farm it is necessary to keep and update the farm records daily, Record-keeping helps the farmer plan and do realistic forecasting in his farm. It also helps to measure the productive efficiency of livestock. When an animals falls sick the farmer has to keep records of that particular animal note down the type of disease, the dose administrated to the animal the dates in which the animal was diagnosed and other essential factors for future reference. I have been going through the farm records almost daily and I have learned on how they are recorded, they should be recorded systematically or chronologically and with accuracy.
I was also privileged to meet an Agronomist here at wilderness farm. She has been training me on how to handle field crops and dealing with the pest and diseases that affect crops. We have been doing a research together about aquaponics which is still in progress, and others about crops and gardening.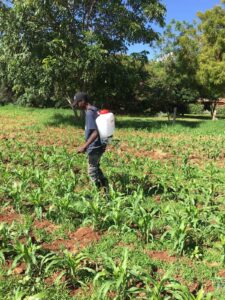 I learned how to use the Knapsack sprayer. This is an Agricultural equipment used for spraying pesticides and herbicides to crop and livestock. This is mostly used in small scale farming as in large scale large equipment's are used such as the AG sprayer. The equipment is easy to handle as you only get to wear it as a bag and keep pulling the handle up and down to allow the pesticide to come out through the nozzle part. One is required to wear protective gear especially when handling toxic chemicals that can affect our bodies and respiratory system.
I am reporting back to school in May for my 1 st year exams and after that I have to go for an internship which will start in August until December. Thanks to the warm relationship with the Wilderness farm manager Jackson, he has allowed me to come back again in August and continue gaining more. I am so grateful for this internship. Thanks to Father Ted and Mother Hanne and all of you for your support. I am truly grateful.