Friends of HHF is an international network of volunteers united in HHF's mission. Friends of HHF teams are committed, caring people who work together to raise support and awareness for the HHFL children in their home countries.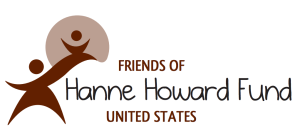 Our fundraising efforts have expanded into the United States! US residents can give to HHF via Friends of Hanne Howard Fund US, a 501(c)3 charitable organization.
FOHHFUS is a 501(c)3 charitable organization that was formed by HHF Canada's Alexandra Howard and Isabelle Tadmoury for the purpose of raising tax-deductible funds in the United States to benefit the HHFL children and youth.
FOHHFUS was incorporated in Rhode Island on October 7, 2013 and our IRS application was approved in August 2014. We are supported by an amazing team of lawyers at White and Case law firm in Washington DC who generously agreed to take on our case pro-bono. With special thanks to Susan Bazilli and Mary Burner who made the initial introductions and to our team at W&C, Matthew Drossos, Geoffrey Lanning, Maury Mechanick and Christine Chang.
This new endeavour was seeded early in 2013 when Alexandra reached out to Isabelle, a childhood family friend from Holland, with the idea of forming an HHF US chapter together.
Isabelle and her family moved to Rhode Island in 2012 after living in Paris for 10 years where she worked as a senior communications professional at Nortel. The timing to embark on such a journey seemed perfect.
Isabelle's interest in and association with the project spans many years. Not only is she the daughter of Marianne Florijn, one of HHF's first supporters and a close family friend, but she and her family have also been supporting the HHFL children through personal donations and fundraising activities in Paris and Rhode Island.
We are also very excited to welcome Eleanne van Vliet, another Dutch native and member of FOHHFUS's Board, who brings a wealth of non-profit knowledge, experience and wonderful energy. Eleanne lives in California and New York.
With your new and renewed help, we are very excited to be expanding our circles of support in the United States for this worthwhile cause!
Please visit Donate in the United States to learn about your giving options.
——–
Tax receipts for donations made over $10 by US residents will be issued. An electronic receipt will be sent to the e-mail address that you provide. Our tax ID number is 46-4037249.
For more information or if you'd like to help, please contact Alexandra Howard at [email protected] or Isabelle Tadmoury at [email protected].