Written by Albanus Mbuvi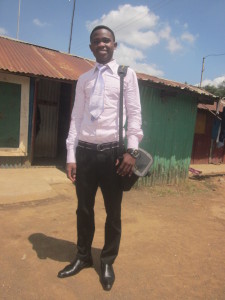 My name is Albanus Mbuvi and I am 17 years old.  I have completed my form four education and got a C plus.  I am dreaming of pursuing a Diploma in Business Information Technology at Nairobi Aviation College in September.  But I realize that college is expensive and need to help in whatever way I can in order to make this happen.
A job is one of the things I have always aspired to have.  Three weeks ago, after applying three times online, I was called for an interview at Nairobi Java House for a full-time barista job.  I received a call saying that I got the job beating out 16 other candidates! I am training to prepare coffee and pizza, which will help me refine many skills in preparation for College.
Since this is my first paying job ever, I'd like to share with you what this opportunity means to me:
Feeling useful
I was motivated to get a job so that I can feel useful.  While not every person is willing to admit that, it is true that there is no person in the world that does not want to feel useful.  Having a job that makes you feel useful gives your life a meaningful purpose.   It also allows you to see your efforts have a positive impact on others around you. You don't have to be a doctor or a teacher to feel useful through your job.  If serving others is a priority to you and if you really enjoy your job, constantly striving for the best possible outcome, then it is for certain that you will be good enough.  Feeling useful will give your self-esteem and your self-confidence a great boost that will encourage you to keep on trying for the best.
Contributing to my college education
A job can definitely help me make ends meet that translates into being able to contribute something little for my fees and to make purchases that can make my life easier.  Even if you don't exactly love your job, you certainly love what this job offers you in terms of money, and this is good enough reason to keep working.
I am also learning how to interact with others.  This gives me a great opportunity to learn to conduct myself in a professional manner.  Even if I happen to work with people I don't like very much, I will still gain from the experience, as I will learn how to control myself, think before I act and use the right words to express my thoughts.
Boosting my confidence
Allowing my creativity and confidence to flourish is also an important element.  I applied for the job online three times and was finally called for the interview.  At the interview, I used three key strategies to get the job: maintained eye contact, projected my voice, and showed a lot of confidence.  I felt great about the interview and feel grateful to have the opportunity to use it as a stepping stone to success.
I am so proud of myself because I achieved this all by myself. HHF has given me all the tools and support over the years. Now I am using everything I have learned to develop my own wings. What an amazing feeling! Trust not what inspires other members of society to choose a career or a job but trust what inspires you and do your best!
Click here to help students like Albanus reach their full potential by investing in their education!