On September 28/29th, we were favoured with an amazing two days of weather for the 8th Annual Inter-Agency Softball Tournament called the "Kenya Cup" in Toronto.
Thirty-two Toronto advertising agency teams faced off on two diamonds at Trinity Bellwoods Park. Two days of hot dogs and good fun/ play saw the 32 teams whittled down for a playoff round for 8 teams. When the dust settled in the championship round, TAXI had beaten TBWA to win the Kenya Cup for the first time.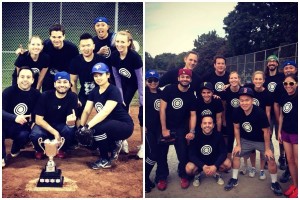 The $15,000 raised this year for the Hanne Howard Fund will educate eight Grade 12 boys and girls for one year ($10,000) and educate one University student for one year ($5,000).
Baseball Commissioner (par excellence) Steve Groh and his committee (Matt Arthur and Mike Spilchuk) did an outstanding job again this year of putting it all together—seamlessly on spot and on time. Thank you Steve, Matt and Mike.
Congratulations to TAXI for bringing home the trophy!
Our thanks go out to all of the Teams from all of us at HHF and from the staff and kids at HHFL. Asante sana.