Our second "Kenya's Children: It Takes a Village" fundraising and awareness building event took place at Art Avenue Gallery in Toronto Canada on October 16th raising close to $5,000 for education!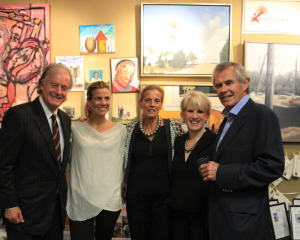 Forty friends and family gathered together on a Wednesday night in a colourful art gallery for the benefit of the HHFL children and youth. Artist Leonard Jubenville generously donated a beautiful oil-based painting for the silent auction that raised enough to pay for Gabriel Lando's post-secondary education tuition fees this year. HHFL's youth artists also provided hand painted canvases, with thanks to Ruth Douglas, that were auctioned off and are now adorning the walls in houses around Toronto! The funds raised from the event registration will secure HHFL's Elizabeth Letoto's well-being and education for the coming year. We sincerely enjoyed sharing the HHF story and would like to thank everyone who attended for coming.
With very special thanks to HHF's supporters, Jeff Miller and Louise Shap, who organized and hosted the wonderful event on HHF's behalf. They threw a fantastic party while ensuring that the highest percentage of funds raised goes to benefit the HHFL children and their education.
Thank you to all the event sponsors and contributors, including Art Avenue Gallery, Bokke Wines, Papergrafix, Chairman Mills, Cafe St Germain, Walima and Angela Di Stasi, for supporting HHF and the event.
Check out our Facebook page for more pictures!
We look forward to our next ITV event hosted by Isabelle Tadmoury in Rhode Island on November 14th!