Meet Daniel Kariuki, an HHFL youth whose life has taken many twists and turns. Daniel did not complete high school and decided to run away from the project for a whole year. He took to the streets, dabbling in gang life. On his own accord, Daniel decided to return to HHFL early in 2013 with a renewed commitment to himself and his future. A born leader, mentor and influencer, Daniel showed us that he was indeed ready to change his life around for the better. After several months of volunteering at HHFL to re-establish trust, he enrolled in an artisan course to become a chef and is finally "getting it right".
——–
Written by Daniel Kariuki, HHFL college student
Over the past six months I have been attending Amboseli Institute of Hospitality and Technology in Thika to become a chef. At school, I have been awarded two certificates and this gives me a lot of confidence.
I have just returned from a three month internship in Mombassa, the Kenyan coast. It was my first time away from my family. As I waved goodbye to my family and the kids at the project, I felt scared because I have never left Nairobi but I was also excited about what lay ahead of me.
In Mombassa, I worked at a hotel called Darajani Hotel. On arrival, I was happy to meet a classmate who welcomed me for three days while I looked for my own room.
During my internship, I worked in the restaurant serving and arranging tables for two weeks. After this, I worked in the kitchen where I was assigned to the hot kitchen for a month and a half. I learned how to bake breads, cakes, and biscuits. I was so happy to learn how to make bread because when I was young I used to wonder how bread was made!
Although I made a lot of friends from different communities in Mombassa, I am very happy to be back at home.  I have learned a lot both in class and during the internship. I have experienced life 'on the other side' and have made bad mistakes – many that I now regret and wish I could take back. I know now that life on the streets is not where I want to be. So I thank HHFL for giving me a second chance and allowing me to go back to college. I promise not to disappoint myself, our donors or my family anymore.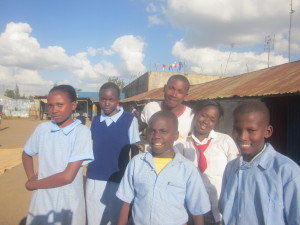 Click here to support Daniel Kariuki's education and journey to success!