Written by HHFL's computer teacher, Isaiah Njuguna
Developing computer skills for the high school students is a big focus at HHFL during the three month-long holiday breaks each year.
90% of high school boarding students do not have computers at school. The remaining 10% have to compete with hundreds of other students to access a very limited number of onsite computers, many of which are broken, infected or too slow.
In order to develop their technological competencies and maintain a "competitive advantage", I am leading the HHFL high schoolers through a certified Computers for School Kenya ICT curriculum, which is broken down into six modules. Each module has various units. The students must present a practical exam at the end of each unit in order to move on.
During each holiday break, Computers for Schools Kenya, the high school students and I are committed to pursuing a new unit within a module.
In August, the students prepared and sat for their first unit exam: Introduction to Computers and Operating Systems with resounding success.
Over the past few holiday weeks, I have been tackling the second unit with the high schoolers: Word Processing and Spreadsheets. l am proud to report that last week, the students sat for a practical two-day exam under the supervision of Computers for Schools Kenya.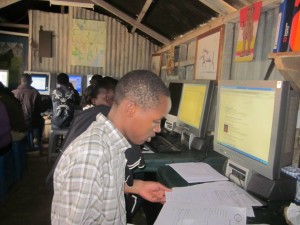 Within this unit, I have taught the students how to prepare Office documents, cross-check spelling and format documents. I also taught them how to perform mail merges. In working with Excel spreadsheets, the students can now comfortably input, filter, format, chart, graph and sort! It's amazing to see the students so engaged and receptive. They really appreciate and understand the opportunity that is before them – the opportunity to be relevant and equipped for success in the 'real' world.
I am also excited to report that two HHFL self-reliant graduates, Priscah and Lydia, completed the full ICT certification this holiday!
We were visited by three University students from the UK, Canada and the USA – Ashley Aiten, Lyndsay Piper and Rylee Richardson – who are volunteering in the Lenana community. I met them in passing one day and asked whether they could donate their free time to HHFL. They have been coming to the project daily to support the exam preparations!
We look forward to positive results in January so the students can move onto the three remaining Module One units during the April holiday – Database Management with Microsoft Access, Presentation Graphics with Powerpoint and Information Network Services and the Internet.
With very special thanks to Computers for Schools Kenya for your ongoing commitment and support toward preparing and advancing our deserving youth!
HHFL's training programs are critical to preparing the youth for 'real world' success. Give the gift of education.