Written by Ted Horton
Dismas was 12 years old in 2006 when we took him into HHFL. He was in desperate state. Today he's a graduate welder (2012), husband and father of a 1 year old son. Hanne and I loaned him the money to buy a portable welding machine, grinder and drill—the basic tools he needs to be his own boss. He's on site making the windows and doors for the new guest cottage on our plot near Nanyuki.  It's a win/win. Dismas gets to work off his loan and earn a wage in the process. He's one happy budding businessman! His younger sisters, Sharon (high school) and Mackline (primary) and all of his other brothers and sisters at HHFL share our pride in their big "brother".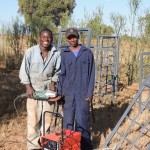 Here's a picture taken with Dominique (an HHFL Form 4 graduate who wants to be an electrician). Dominique is getting some experience with Dismas and our building crew.
Check out the samples of Dismas' work.  He's good!!