Written by Teacher Isaiah
It has been a great time for learning, service and fun at the HHFL project during the holiday month of August!
End term dates differed on a number of schools to which our kids are enrolled, with the earliest ones being the primary school kids from St. Nicholas in Karen. By the 16th, all the kids had reported back to HHFL for the remainder of the month and the whole compound was beaming with lots of activities for everyone!
Here are some holiday highlights: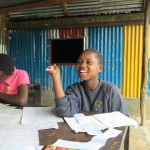 Celebrating HHFL's top female academic achievers: On August 7th, Faith and teacher Isaiah attended the closing ceremony at St. Nicholas Primary School which was colourful with some of our kids flying high by topping their classes. 7th grader Patricia Wanjiru is top in her class and 3rd graders Sandra, Sonia and Michelle scooped the top three positions in their class! They also led in Science, English, Social Studies and Kiswahili. In her latest exam, Leah Wanja has also risen to claim 3rd spot in her class. Well done to our bright young women!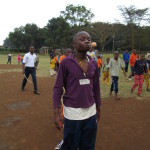 Participating in HHFL's Holiday Program activities: Mondays to Saturdays were split into two sessions – morning and afternoon. The morning session included arts, music, drama, wildlife and computers (only for high school kids because they do not have access to these rare commodities during their school terms). The kids could sign up for whatever activity they were interested in. The HHFL youth helped led the activities for the younger ones as part of the volunteer mandate.  There was a wonderful feeling of ownership and responsibility to our kids.
The afternoon sessions included sports and fun. There were a number of activities which were brought forth by Isaiah, Lucy, Faith and Zilpa. We did sac races, obstacle courses, egg-walks, athletics and soccer. During the games, we borrowed time from a community field due to our limited space here in the slum. That aside, everyone always longed for these events every day. Paul Njoroge turned out to be a very wonderful sports co-ordinator and was very helpful in getting the kids organised.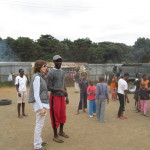 Hosting special guests and volunteering: Moyra came on Saturdays. She brought fun movies, a cup of Milo and some wonderful guests. We saw the Wizard of Oz, My King and I, Willy Wonker & the Chocolate Factory and Peter Pan. These movies, apart from breaking the monotony of the week, had many life lessons!
Moyra also brought Mido, a fellow from the Kenyan National Theatre who was a wonder. He had lots of games to teach kids about teamwork and concentration. He also brought musical instruments such as "Nyatiti", a Luo stringed instrument (Luos come from the Lake Victoria region but originated from the Sudan). He also brought a "tomtom" or the West African talking drum. He showed the kids how to play various beats for different messages and shared lots of traditional songs and stories.
Another visitor during the week was Christine, a friend of Moyra's who came from the Mara. She took the kids through the neighbouring Ngong Forest for an interesting bird walk. She comes from the famous Maasai community and has a great knowledge of the wild just like Onesmus.
Other special visitors were brought to HHFL by our friends at Bush and Beyond and Uncharted Outposts. Mel Estrin and his family visited us to mark his 70th birthday. He brought along his grandkids that came with stationery gifts for our kids.
Doug and Sherry also came one of the afternoons and were amazed to see the wonderful things that we have been doing over the years to sustain slum kids and give them a kickstart for their lives. Our project is open and we take pleasure in making new friends!