Written by Samuel Mumo, an HHFL child (and aspiring Yogi)
It is on the 25th of April, a Saturday morning and we are all getting ready for the Yoga session that we have every Saturday. Apart from the other holiday activities such as; Drama, Art, Dance, Poetry, English Classes, Nature Walks, Bird Watching etc, am quite sure everyone one loves Yoga more than any of them, as for me, this is my best.
Within no time Moyra was here. A smile on everyone's face as we receive her. Everyone is trying to help lay down the mats as Yoga is done on a comfortable surface. After this we all take the right positions giving each other enough space for the Yoga moves. Silence, concentration and discipline is one of the most important aspects in Yoga, everyone is careful to observe this. We are all looking at Moyra, curious to see what she has for us today; we can't wait to learn new stuff from her.
We start off and we all try our best to do what she does step by step. As some of us struggle to do what she is showing us, she reminds us that we are not all equal and what one has to do is stretch to some comfortable extent and as time goes we will get better. To be honest this is the part you realize how hard it is to stay quiet and concentrate for quite a long time. At first it was hard for us all as it was a new thing but now I can guarantee that we are the best around. Through Moyras classes we get better and better everyday.
We are all grateful to have a chance to experience Yoga right at our home. We are aware that it is an expensive activity but Moyra saves her time to be here with us and take us through it all. We wish to have you forever with us. Whenever you go you are always treasured in our hearts, we love you so much. Thank you Moyra.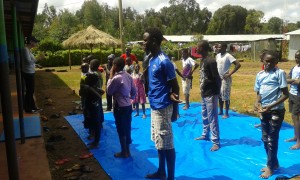 We are very thankful to everyone out there who makes our life wonderful, we love you so much and we highly appreciate your love and care. We as HHFL kids send you all a lot of love.
Yoga is just one of the many activities enjoyed by the HHFL children,  allowing them to have fun and appreciate new experiences. To learn more about what else makes our organization special click here.