Written by HHFL students, Gabriel and Hilary
Three of our bright young men (B+ students) are taking a college diploma course in aircraft maintenance in Nairobi.
Samuel and Gabriel complete their second 3 month attachment at Tropic Air in Nanyuki at the end of this month, and Hilary, his first. Samuel and Gabriel will enter their 3rd and final year of college in September and Hilary will enter 2nd year.
It's really heartwarming to read these letters, particularly when you know their stories. Samuel, Gabriel and Hilary are tangible proof of what 3 determined slum kids can accomplish with the gift of education. Their futures look bright and that makes all of us proud.
Hilary writes: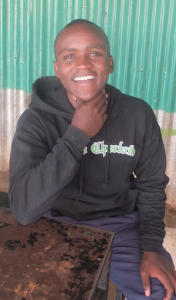 I am so excited that I even don't know where to start. Two months ago I came to Tropic Air without any hands on experience whatsoever. It's a really good thing that I had Gabriel and Samuel to guide me through the basics.
Fast forward, my attachment is nearly over and I know the question is what I have learnt. Answer, a lot of things, from simple maintenance procedures like draining used oil and filling new oil to more complex procedures like a compression test which is basically gauging the performance of individual engine cylinders. I have learnt about dismounting landing gear, disassembling its individual parts like bearings, calipers and break pads, lubricating them and then mounting them back again. After that we normally do brake bleeding if we happen to have removed the calipers (the part that tightens against the brake disc when you press the brakes.) The brake bleeding is basically removing air from the hydraulic fluid in the brake system for it to work efficiently. We also remove spark plugs (they ignite fuel air mixture in the engine cylinder) clean and test them before
reinstalling them back. Sometimes like today we even removed an underperforming cylinder when it failed the compression test (I don't sound like a nerd, do I?) Well it seems all the foolishness in my head is paving way for intelligence. Oh! we also fabricate things like washers, bushings, panels etc ( the only things we find a hard time fabricating are stories). I noticed welding and painting come in handy in this field. I didn't do them but at least I have a practical idea of how to try. I can also comfortably lubricate, clean and check control systems. Sometimes when am free I try to familiarize myself with the choppers (getting out of your comfort zone huh!) We also drill and file and paint strip and…I can go on and on—bottom line, it has been a TERRIFIC EXPERIENCE from the word go and am falling in love with this place. Thank you Baba Ted for going out of your way to get me this attachment. It has really been an eye opener and that means a lot to me. Don't mind if am too wordy, its just that I am very happy that I have learnt all those things.
Regards,
Hillary
Gabriel writes: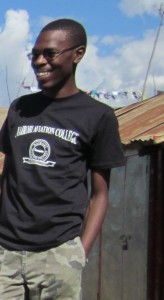 I am happy to let you know that we are having a fantastic time. I can describe it as the best moment of our lives because we have the opportunity to do what we love most [aircraft maintenance]. We have learnt so much within a short period of time and we are very proud of ourselves. I am very honoured to share my experience with you.
I have participated in major engine checks this time round like compression test in cylinders, changing magneto, comp wash in gas turbine engine, changing of the oil filters, cleaning and gaping of the spark plugs.  We never had the opportunity to work in engines during our first attachment because Patrick, the chief engineer doesn't entrust students with such task [because the engine is the most vital part of an aircraft where even the slightest mistake can cost lives]. We had to prove to him that we have what it takes and it paid off. When opportunities like this show up on our door, we welcome them with my hands wide open.  Sometimes when the hanger is not busy we involve ourselves in other activities like construction, cleaning and office work [filing tech records].
I had a chance to fly in CBQ again in a test flight with Mike Kibe. We flew for 30 minutes checking and recording the working conditions of all the instruments. Everything was working perfectly well.
Cheers. Gabriel
Thousands of children do not attend school in Africa because their parents or guardians cannot afford the school fees, uniforms or supplies. The educational system in Kenya is demanding and very competitive. Those who are given educational opportunities must work very hard to be rewarded by the system. 
All HHFL children and youth attend school and are supported by HHF until they achieve self-reliance. Learn how you can help here.