Written by HHFL kids, Gabriel, Wesley, Samuel Kinyanjui and Bernadette
The final product may appear so simple but the steps taken to build our African hut are so tedious and required joint effort.
We had to landscape the area where we were to erect the central pole. Muli, Charles, Rashid and Philip did the landscaping using a hoe, garden fork and a rake.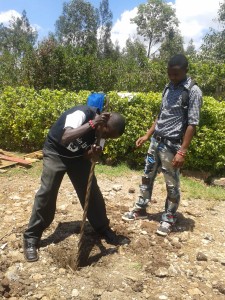 Sheldrick, Sandra, Dominic, Albanus and  Rajab  dug the central hole which was about four feet deep and  fifteen inches in diameter with a 'tarimbo' –crowbar while Gabriel, Samuel, Samuel Mumo, Moses  and  Wesley brought the poles, runners and trusses  from a hardware which was 3km away, each carrying about  5 kg of wet wood. What a hustle!!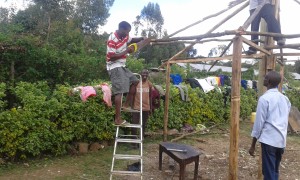 The following morning we woke up energized ready to raise the framework of the hut. It was quit tiring as it took us the whole day. That's when we realized that our very own Gabriel has desirable skills in wood work. This saved us the cost of hiring a 'fundi' –carpenter.
After completing the framework, we proceeded to the thatching of the roof with 'nyasi'- elephant grass. Faith, Bernadette, Pharis, Vincent Maina, Stephen, Daniel and our computer teacher Isaiah went to fetch grass about 1 km from our new home. Bonny Opiyo and Boniface did the transport of the grass using our very old wheelbarrow which broke down but still the grass had to reach home. Our engineer, Gabriel asked a truck driver who was passing by to help us get the grass to our final destination. Luckily he accepted and gave us a hand.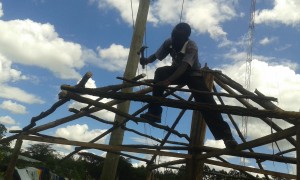 We all came together with the assistance from Peter, our new teacher to do the thatching which only took us a half day. We now have our very beautiful African hut. Discipline, respect and teamwork is the way to go as our motto states.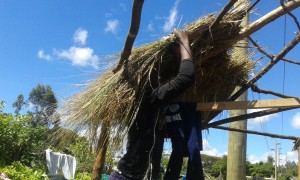 Click here to read more letters from Kenya, and find out first hand how the Hanne Howard Fund helps change lives.