Written by Isaiah, HHFL IT, Communications and Admin manager
During the month of July 2016, we got very lucky! We received funding from the Swedish community living in Kenya to upgrade the current boys and girls hostels at HHFL. Our hostel is home to 26 orphaned HHFL children who have no other family to live with. Today, there are 14 boys and 12 girls who live in the boys and girls hostels.
Why it mattered to upgrade the boys and girls hostel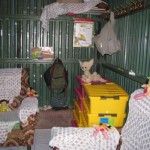 As stated above, the hostel is the only home to 26 boys and girls. The children live in the hostel full-time during primary school and on holidays during high school (since they are at boarding school). It is therefore of utmost importance to train our children on proper sanitation standards and care of their personal belongings while they are in our care. Cleanliness, being organized and having a good night's sleep are very important components that determine their daytime concentration in classroom and their overall academic performance as well as building their self-esteem.
What did we do with the donation?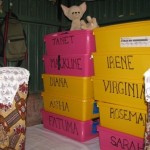 With the grant from the Swedish community, we bought delicious new bedding (mattresses, bed sheets and pillows). It has been such an important turning point that has added value to the lives of our children. Besides improving cleanliness, the children can now sleep comfortably, organize their few personal items in easy to clean plastic boxes. We have used iron boxes in the past that got rusty and sometimes dangerous as they could injure the children while handling them.
When we asked the children about the new hostel updates, James and Snorine (current boys' and girls' captains respectively) had this to say:
James Kamau (Boys' Captain)
The new look allows us to do cleaning better and leave the hostel looking very clean when we go to school in the morning. Each of us cleans on a particular day and we are very happy. I have been sleeping nicer. We are so thankful.
Snorine Lihavi (Girls Captain)
All of us enjoy the new look and beddings. We sleep very comfortably and we can organize our room well. We are really overjoyed because we were given our favourite colour, pink and yellow. Now our hostel looks clean each day. Each one of us has a turn to clean the hostel. We maintain cleanliness and we lack words to tell you, but only to say thank you for everything. We are really grateful for that.