Written by Isaiah, HHFL IT Communications and Admin Manager
This morning, 6th December 2017, we woke up to a bright surprise with a visit by one of our big girls, Philomena.
She has been on a 1-year full scholarship funded by AkiraChix to train her in technology. This is a chance that came on merit when she attended a very difficult interview last year that got her selected out of a number of applicants. The scholarship is a chance given to young women who come from less privileged backgrounds but have a passion for technology. It is one of the ways AkiraChix seeks to bridge the gap between male and female tech experts by empowering women.
With the end of the year coming soon, her course was also coming to maturity, with her class graduating on Dec. 1st this year.
Everyone was very elated to join in this celebration, with Mama Hanne and Baba Ted commending her for her hard work, saying that this is an outstanding result from the HHFL post secondary students. Philomena came adorned in her graduation gown carrying alongside her graduation certificates and a letter of recommendation that was read verbatim to all the children at HHFL by the HHFL manager, Lucy.
Philomena is excited to share her letter an certificate with you today.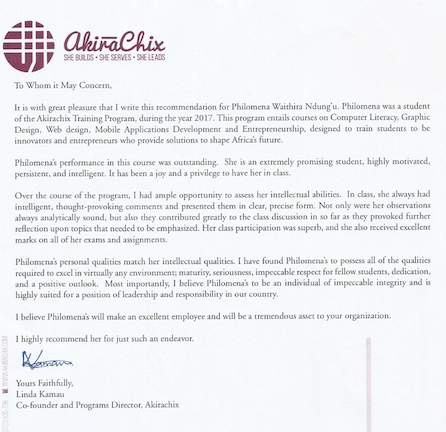 Philomena has come a long way, having been raised by a single mum in the slum, and she too becoming a mother just after completing high school.
She is an inspiration to many that nothing has the power to stop them from becoming that which they always dream of. She is already a few steps ahead in the path of success, and she is very optimistic of securing a job with a reputable tech organization.
In the meantime, she will be in a paid internship for three months to cement her diploma course in Mobile Application Development, and we could never be better proud of her!