Written by Isaiah, HHFL IT and Communications Manager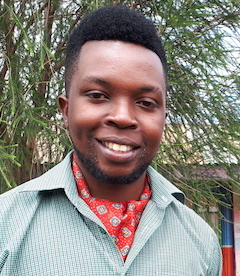 It is another successful vocational child that HHFL feels very proud of. James Kamau joined HHFL in 2006. He is one of the boys that could not handle high school, and chose vocational course after clearing grade 8.
HHFL sent him to Sagana Technical Training Institute where he, alongside other HHFL kids were not fairing very well. We then decided to transfer him to Kinyanjui Technical Institute where he graduated with a grade 3 trade test in motor vehicle mechanic.
He worked some jobs as a mechanic but then life took an interesting and exciting turn. He started  designing artwork on cars!
He has been into the branding business since 2017 – with his 1st major job being branding of campaign vehicles for politicians. He has been a brand ambassador with Safaricom and Telkom – Kenya's leading mobile telephone network companies and Toyota Kenya.
He decided to call his branding business Fenske Branding, which is thoughtfully named after his late little HHFL brother Brian 'Fenske' who died some years ago from AIDS.
He is learning graphic design, which is a vital skill in the branding business. He still does not have a physical premises, but is hiring room in partnership with Brand 254, a bigger branding company that sometimes gives him branding tenders.
James says he still does occasional mechanic jobs either in his neighbourhood or servicing friends' cars at a fee but vehicle branding is his passion! He will continue pursuing this as long as there is demand!
He visited HHFL on the 4th of December and gave a talk to the kids about the need to be resilient and have a broad perspective to life.
James is a shining example of what can happen in life with vocational school training, an educational path that still carries stigma as being less valuable.
Thank you James for paving the vocational way for our younger kids!