Written by Isaiah Kirieri, HHFL Computer & Technology Instructor 
School breaks that we have every April, August and December come with lots of things to be done by both the kids and staff within and without the compound. All these activities are geared towards bringing up our children in an all-rounded approach by concentrating on providing things they might never learn in school according to the curriculum but are an important part of their lives.
One such activity is letter writing. In plain language this might sound insignificant; but think about it. How many kids in Kenya or Africa at large are able to write and express themselves? How many of them are able to draw people from thousand miles away into their daily lives through letters?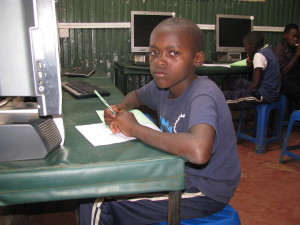 Most of our kids are sponsored although we still have quite a number that we are yet to secure sponsorships for. Our hope, however, is that with time we may be able to have all our kids sponsored which makes our budgeting for all of them much easier. A full sponsorship means that all the expenses for the year for a particular kid are catered for and they can stay in school, receive medication, nutrition, go for field trips etc. So every child who has a sponsor gets to write to them every time they take a break from school to let them know how life has been for three months (the average time they spend in school before they are given a break).
It has become a lifetime culture where the kids keep their foster families updated about their lives. I am calling it a culture because in some way it becomes part of their DNA to just flare up a browser and shoot an e-mail whenever they come home. All of them beginning with the tiny ones to the young adults, take it upon themselves to write. There is minimal guidance to the very young ones and this is where the story gets juicier.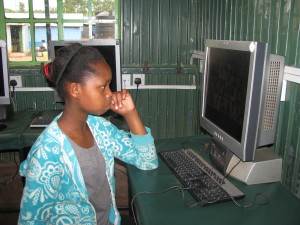 Letter-writing helps us kill two birds using one stone. One – they let their donors know how they are doing and, two – they improve their language and essay writing skills. Our kids receive guidance on good sentence structure, paragraphing and punctuation as well as learning how to organize their string of thoughts when narrating their whereabouts.
Another very important effect that letter-writing creates is the sharing of feelings between the kids and their donors. Our kids are able to communicate with adults, as well as teenagers and children around the globe which helps them appreciate the diverse cultures that exist in the universe and they are able to broaden their vision. Having someone you refer to as sister, aunt, uncle, daughter, brother etc creates a very personal relationship that helps our children see beyond their little world, dream big and accomplish great dreams.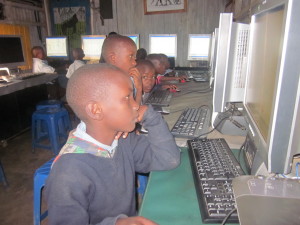 I asked some of them what it means to them what it means to them to write directly to their donors and here are some:
Asha – When we communicate with our sponsor it is fun because we are able to know more about them like about their country, their personal life, their feelings towards us and many more.  We are so happy to get this opportunity to talk to them because there are so many kids there outside who can't get this opportunity to communicate with them, but for us we just want to say thank you very much.
Muli – 12 yrs: communicating to sponsors is very important and it's fun because you can now ones state. I feel very well when communicating to my sponsor I communicate to Matthew Hardie and some times I communicate to his mother, Jennifer Hardie. I fell very happy when communicating to my sponsor.
Snorine – 14yrs: I feel so happy when I am communicating with my sponsors, because in our lifetimes many kids don't have that opportunity. When we communicate to them we share with them our life and we can feel when they are not OK. I feel so happy and protected when I communicate to them. Life brought us together with them so that we can feel what they feel in their hearts.
Sheldrick – 17yrs: just want to say how it feels when I write a letter to my foster family. I first ask how they have been doing. Then I have to ask them some questions and also tell them how I have been. When I am sure that I have written the letter very well, I call on Tr. Isaiah. he really gets to do a lot of work. He has to go from one person to another, take a look at all the letters before we send them. Sometimes we get impatient waiting for a reply. We go to the computer lab only to wait for the reply. For me when I get my reply I feel very nice. Some of us also make a show off of how their sponsors or foster families have replied to the lovely letters. I myself have a foster family and I think I am very lucky. When I write a letter it takes no time and I get a reply. I really love my foster family very much.
The Sponsor relationship is very important to the children of HHF and the opportunity to build and nurture this relationship is invaluable. To find out how you can become a sponsor, click here.