Written by Bernadette Nafula
Our April school holiday month has come to a close and as always, we ended our holiday with an amazing celebration! On April 27th, the entire HHFL family including 115 little and big kids showed up to the project to recognize and celebrate all the goodness that has been happening in our individual lives. I love these ceremonies because we get to spend time together 🙂
The ceremony was designed and directed by our very own talented baker, Daniel Kariuki, and the jovial festivities lasted the entire day. Mama Hanne and Baba Ted celebrated with us, which is always a highlight.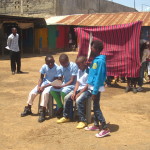 There were several awesome presentations from the HHFL kids including an Easter play from a group of primary school children. Being creative and displaying talent is not something these children are used to outside of their homes. But at HHFL, this is always encouraged and celebrated!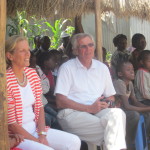 After the presentations we heard words from our own Baba Ted, or Papa Tango as we like to call him (he's a pilot!). He talked mostly about the importance of education and making the best of the opportunity that is in front of us due all the wonderful support that we receive from amazing people around the world.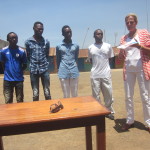 Mama Hanne took the time to recognize the most improved kids in school. This kind of recognition is very important because it motivates the children to work even harder and achieve excellent results. She also awarded our very creative artists; Gabriel Lando, Simon, Steve and James whose pieces of art were actually sold and the money was used to buy different things such as balls and ropes. Here at HHFL, we not only get a high quality education but we make sure to enjoy ourselves!
There was also a presentation from five girls who were recently given the chance of a lifetime to attend a technology boot camp. Each of the girls – Faith, Elsie, Philomena, Jane and me (Bernadette) had a powerful story to tell. But it's safe to say that one message prevailed: women can also choose IT as a career! What an empowering idea.
The post secondary students also had a chance to tell us about their studies and how they are doing. We are so proud of our up-and-coming engineers and pilots such as Gabriel Lando and Samuel Kinyanjui. We also have an up-and-coming banker and, maybe in five years time, a bank manager- Mike Bundi! You could see that these stories inspire the younger kids to want to do their best so that they too can succeed one day.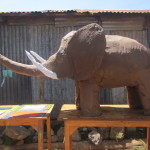 In addition, we had an awesome art exhibition. Different works of art were presented which included our very own elephant known as Ely which was made from different materials such as wires. Other art works included beautiful paintings and a very cozy traditional hut. What incredible talent lies within HHFL!
Memories are never complete without photos and we sure took a lot of them to mark this day.
To view the full photo album check out HHF's Facebook page.