–written by Bernadette Wasike, HHF-L Alumnus
Imagine a world where we are all free to discover, explore and nurture our inner abilities! That in spite of all the noise and chaos of our daily lives, there exists an opportunity to just be ourselves. This is what I feel any moment I have a personal time with my canvas, paints and paint-brushes to, in some way, bring out the images and imaginations running through my mind into a fine peace of art – one for passion and leisure but also earn some coins out of it! It is one of the joys and things that sets us (HHFL beneficiaries) apart from the rest of our peers. The extra curricular activities have enabled me discover the artistic side of myself, even as I chase for a career in horticulture.
Bernie Arts is an online art platform dealing in selling art canvas paintings and art prints. I am the sole owner of Bernie Arts, I started this platform in March 2020 after my internship ended at Dudutech due to the pandemic. It was a difficult moment for me as most horticultural companies laid off workers due to restrictions on exports. I started doodling to keep myself busy then one day a friend visited me she thought my paintings were great and advised me to sell online.
I proceeded to do my research on online art selling and since I did not have a website I created a Facebook page and set up an account with Fine Art America an online art shop based in the USA that ships purchased art all over the world.
The Facebook page, Bernie Arts 254, assisted me in getting people's attention many of my previous schoolmates and other friends now were aware that I am an artist ready to fill up their walls with my beautiful paintings.
The account with Fine Art America gave me an even bigger audience with potential to purchase my work all over the world in form of high quality prints
Our slogan as Bernie Arts is " You Imagine We Create" meaning all you have to do is give me an idea of a painting you would love and I'll do the magic. My dream is to offer the best customer service get more referrals and create an even bigger audience. Currently Bernie Arts has 600 followers on Facebook and over 1400 visitors on Fine Art America.
My biggest challenge in running the platform is that the international market has not been actualized yet as the website requires some payments of up to $300 in order to get a premium account. The Kenyan Market currently is dependant on referrals and converting followers to customers. Averagely Bernie Arts has managed to make about Kshs 20,000(USD 200) in 18 months and I am still aggressively working on the dynamics to boost my profit margins.
I am currently focused on creating more digital artwork as it creates a niche allowing me to sell my work as prints for this to be actualized I'm working on getting a tablet and acquiring an online paint app known as Procreate which has allowed millions of artists to work digitally and even work in the Metaverse. I also plan to open more art shops with websites such as Etsy and Patreon.
This can not go without being said I am very grateful to Mama Hanne, Baba Ted, Alexander, Lucy, Isaiah and Teacher Dan for always being so keen in creating opportunities to develop our talents. My skills as an artist were discovered and sharpened within The HHFL Organization. Asante Sana.
Here are links to my Facebook page and Fine Art America Website. I am also sharing a few of my art pieces here:
fineartamerica.com/profiles/bernadette-wasike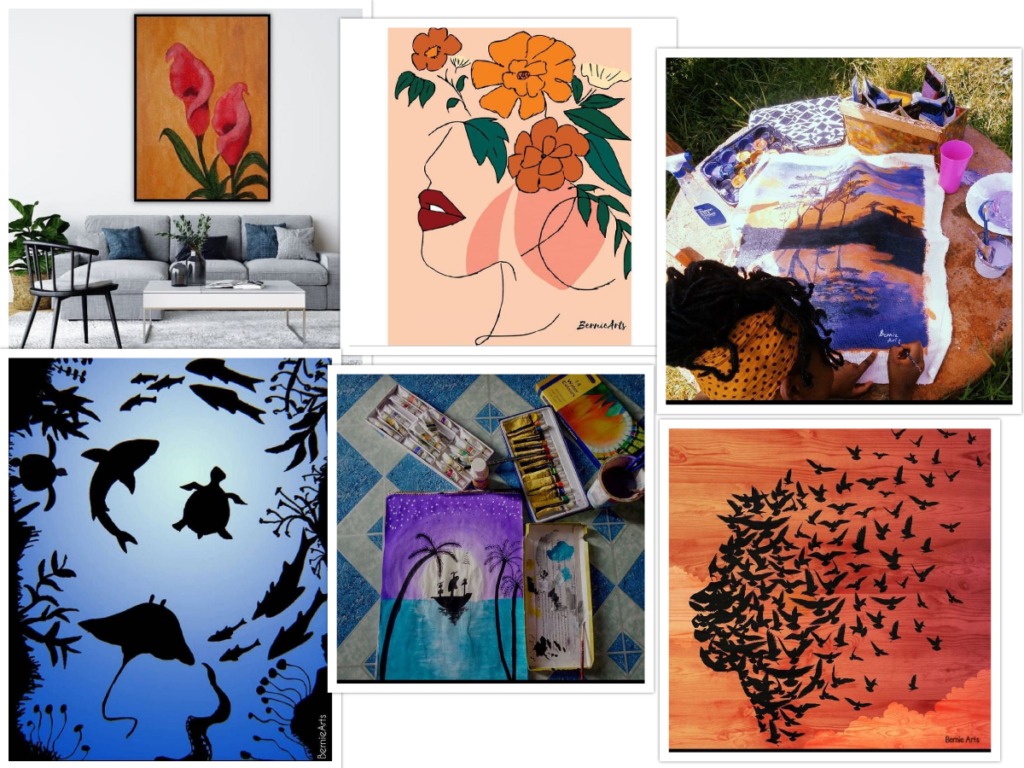 Aside from Art, I have had an interesting journey in my career path as a Horticulturalist. Being a degree holder in horticulture, I have learnt a lot about plants in general, sustainable agriculture and most importantly the big issue currently affecting agriculture which is climate change and the urgency to find mitigating solutions.
As a young woman trying hard to build a career in the agriculture sector I have experienced a challenge in establishing myself as knowledgeable enough and equipped to get the job done. There is a lot of myth in hiring young people as our generation is seen as "zoomers" with no hands on skills however I am very grateful to the few companies I have managed to get into and acquire knowledge and skills.
Recently I have worked in agriculture finance related company whose aim is to provide sustainable financing through participative and collaborative financial and non financial interventions, innovations, technology and product. Through agribusiness related loans farmers are able to finance various income earning agriculture related projects such as steers fattening, greenhouse farming, water development projects and even land purchase.
This has been an interesting phase in my career journey and has created an interest in me to get into entrepreneurship in agriculture in the near future through low interest government loans, see I have a dream as a Horticulturalist to use both my academic and professional experience in establishing and running a successful organic fruit and vegetable farm business.
Our slogan will be something like "The Kienyeji Way" straight from the farm to your plate.
I will get there but for the mean time I have to work extra hard to build myself within the agriculture industry. I believe if I am consistent in my efforts there will be a positive reward to the Universe.
Kind Regards,
Bernadette.