I was introduced to Africa and the HHFL by my good friend, Marianne Florijn. My first visit was in November 2007. The project was in its second year and well on its way. I immediately fell in love with the ready smiles and happiness of these children and ever since I have been supporting this project.
In February, 2009 I returned to Nairobi, this time with my hubby Pim in tow. What a surprise awaiting us! Hanne had kept us informed of the changes and improvements that took effect in 2008. But I definitely was not prepared for the changes we encountered.
The entire project had relocated to a fenced in compound within the slum. A new kitchen and eating hall had been added. The hostel and all 26 orphans took up residence in this new place with new beds and bedding. A huge improvement over their last digs! The Tiny Tots Early Childhood Development Center, a happy and colorful school, is here too. The Tiny Tots have a big sandbox and a swing which they adore, but best of all is the field in the middle of the compound where the children enjoy themselves playing football, hockey, skipping rope or practicing their scout drills under the watchful eye of "Chelsea" Peter, their coach.
The art room is a very popular and busy place. Art Director, Duncan teaches the kids how to make drawings, pictures and all kinds of arts and crafts. Simon, a fantastic acrobat spends hours teaching the kids to fly through the air and land safely on their feet!
But most important, was feeling the happiness that these kids radiated. Volunteers and kids alike had a good time and always did their jobs in a very motivated way.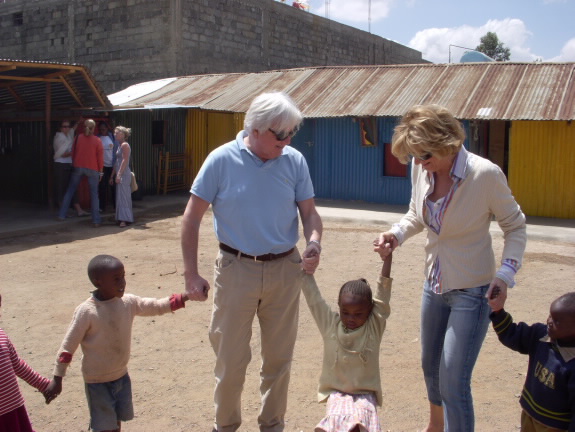 You cannot begin to imagine the good time that we had during our last day when we all attended the farewell party organized in our honor. The scouts proudly showed their skills and drills and raised the scout's flag. The drama club presented a very original skit which made us all laugh and the little ones sung sweetly for us. Thank you very much again!
Dear Hanne and Ted, this project is really something to be very proud of and Pim and I enjoyed every single minute we spent in the slum with you and the kiddies. We can see and feel how rewarding this must be for you.
We know you are already busily preparing your next move, the piece of Shangri-la in the Ngong Forest, you showed us. We wish you luck and hope you will succeed in securing this plot of land. What a wonderful place this would be for the children! We feel confident that once this happens, you will find the support needed to develop this dream accordingly.
We wish you all the best and hope to come back next year! Asante sana! THANK YOU!
Love to all, Carolyne and Pim Lempers