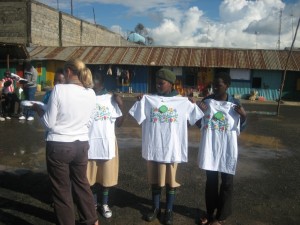 Saturday the heavens opened just as we were about to get underway! Not a very auspicious start. But puddles in the yard only dampened the feet not the fun! Our scouts paraded brilliantly. Our drama group had us laughing. We sang and danced.
The kids had just polished off 15 chickens at lunch (a special treat) and were warming up for the tubs of ice cream and other goodies that were to follow the ceremony.
We acknowledged a whole bunch of the kids for their 1st term performance at school and for their activities in the project, including scouting.
Thanks to the generosity of Lilley  (who visited the project last month with her mom Lynda from Zurich) and her scout troop, we had several books on scouting to turn over to Abdallah , the assistant area commissioner for youth development and our scouts . We also handed out the scout T shirts that Lilley's scout troop sent along.
The wonderful gifts donated by Jennifer Hardie and Matthew Hardie's school in Dubai made great prizes. All in all, a terrific afternoon of fun and recognition.
A special asante sana to Lilley and Matthew and their mates for making this a very special occasion.