Written by Kennedy Otieno, HHFL's first high school graduate, 2009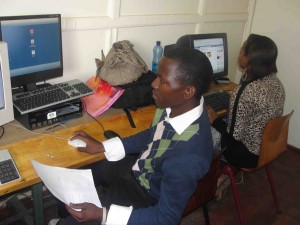 I have always been focused on higher education, but it wasn't until early 2011, when HHFL made it compulsory for all high school graduates to join Computer for School Kenya College (CFSK) for a 3 months computer introductory course that my interest in ICT (Internet and Communication Technologies) became a passion. My interest in this field had already been peeked through the HHFL lab, which became a reality in 2010 exposing all us to the wonders of the internet! After the successful completion of this course and with the blessing of HHFL, I decided to stay the course by enrolling fulltime in CFSK's diploma program.
The benefit of this diploma is multi-faced. With some luck, it should give me immediate access to employment, but better still, it will enhance the chances of my real GOAL, university acceptance! CFSK, a respected college, works with local universities by preparing its students for their degree programs. I am determined and working very hard to gain entrance into one of the two best Universities in the country, namely, Masinde Muliro or Jomo Kenyatta Universities. Both are leaders in the ICT field.
My optimism is at its highest as I know and feel that my dreams are within my reach. HHFL and all its supporters have given me the blessing of choice – asante sana (thank you)  from the bottom of my heart!
Today, the future is bright. I look forward to the day that I cannot only take over the responsibility of caring for my 8 year old twin siblings but also by helping my HHFL siblings by making our computer lab and program the best ever!