Letter from HHFL's John Mutahi, 1st year student at Polytechnic University in Design, to Hanne, Ted and Alex
I hope you are all doing well, I really miss you!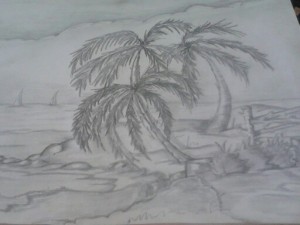 I am proud to inform you that I started my classes and am so happy to be doing something that is part of me – something that I enjoy doing so much. I have found new friends who are passionate about Art and Design and we have lots in common.
At the moment we are focusing on the Introduction to Design. The course has several units and I will ensure that I graduate as the best designer! My best units so far are Maths in Design and Material Tools & Processes. I am really enjoying these studies.
On the other hand, I have experienced some challenges in this conquest to success. This is because I have a part-time job that is like a miracle to me. It is so hard for me to coordinate both school and work since I study during the day and work during the evening. It reached a point where I felt like giving up because it takes a lot of time and commitment.
But working and studying has taught me that nothing good comes easy and if there is no pain, there is no gain. I have to work so hard to manage the two. Actually I have lost some weight but I am still walking like a giant. This experience at this young age is really making a great impact on my life. It has taught me the importance of being self reliant and I know it will help me strengthen my character. At the moment I am trying to balance school and my job which I know will contribute to my education through savings.
I also found it difficult to study from home so I had to rent a hostel near the school. This helped me not to be late for my lectures. During the weekends I take the time to go and see how my mum and sister are progressing. At the same time, I visit and volunteer at Hanne Howard Fund Lenana, a home I am always proud of!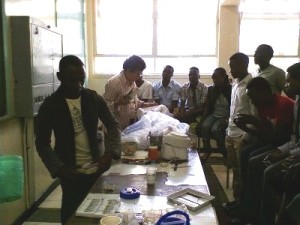 Here is a photo during class with our teacher Madame Pido who lectures us on Materials Tools and Processes.
Once again I want to let you know how much I appreciate how you and HHFL's supporters around the world have made a great impact on my life.
Yours Loving, John