Show your support by donating $1 per mile to help educate the HHF kids!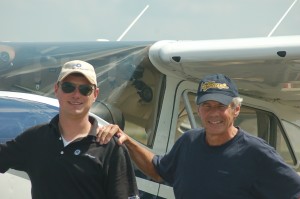 After months of planning and preparations, Ted left on Thursday August 15th on a 10,000 mile aviation adventure from Ottawa Canada to Nairobi Kenya in his Cessna 182. He will be accompanied by Ward Welvaert, a professional ferry pilot who has completed many single-engine flights over the North Atlantic. Together, they have planned 21 flight legs (maximum 6 hours each) through Eastern and Northern Canada, Greenland, Iceland, Europe, the Middle East and Northern Africa! If the schedule goes according to plan, they will land at Wilson Airport in Nairobi Kenya at the start of September!
We thought this would be a great opportunity to raise some funds for the post education needs of the HHF kids. Show your support by donating $1 per mile – give as little as $10 for 10 miles, sponsor a leg or sponsor the entire journey for only $2500!  All donations will make a difference and are greatly appreciated! If you'd like to donate, please click here.
Ted is keeping (and sharing) a daily diary of his adventure – feel free to track his progress on his personal blog at 

http://cessnaottawa2nairobi.islandnet.com