Meet Isaiah, our newest member of the HHFL team. Isaiah's background and accomplishments in the face of life's challenges are very inspirational. He not only "gets it" but happily shares his talents and gives back. He is a terrific role model, not only for our staff but also for the HHFL kids. Under Isaiah's training and supervision our computers are now truly opening up a new world for these kids as well as other deserving adults in the Lenana community who receive free computer training from Isaiah as part of our community outreach program.
Written by Isaiah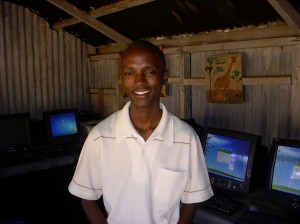 My name is Isaiah Kirieri and I am currently running the Computer department at Hanne Howard Fund/Lenana. I am an eighth-born in a nuclear family of ten siblings and we reside in the rural areas of Kitale, a town located on the western border of Kenya. Our home is actually a few kilometers from the Kenya-Uganda border such that we sometimes trek to the neighboring country and back.
Being a college IT diploma graduate from Amboseli Institute of Hospitality & Technology, Thika, is a significant milestone that has led me to be serving the Fund at the moment.
The idea about Hanne Howard Fund came to my notice some time back in 2011 when I got introduced to the staff at the premises in Lenana by one of my colleagues with whom we were at Computers for Schools Kenya for my internship.
I am bereft of better words to draw the exact picture of my first experience with the organization. First, it is for the nostalgia that warms up my soul when I stare at little children and young adults who most likely share no blood cohesion yet they live peaceably relating to one another as brothers and sisters. I have been nurtured from an analogous setup during my high school days between 2003 and 2007 when I was awarded full-sponsorship at the prestigious Starehe Boys' Centre School after scoring a total of 435 out of the possible 500 marks for my primary level examination in 2003. The common thing about these two places is that we all come from different backgrounds, each with a story to tell, and to some, it rips open painful sores of some past we never wish to be reminded about.
Unbelievably, to people whose lives would otherwise be ruined, we are given hope and a future and our past drawn into the bin. We come out with our heads high, having been molded in an all-round manner to enable us identify obstacles in life and get the logistics of disentangling ourselves out of them. We are given life skills, moral and career guidance that transform us into people who can lead responsible lives in a world full of young men and women who have lost focus and can not be able to join the dots in life.
At HHFL, it is quite fascinating to see youths whose lives would otherwise be shattered in drugs, irresponsible behavior among other crimes, being taught what it means to be self-reliant, offered with a practical opportunity to understand the essence of team-building and to make them successful adults. My greatest wish is that such benevolence could be extended to many more who are in need. It however remains a collective responsibility to each one of us to do something out of our ability to enable others enjoy that advantage. Those are words that still echo in my mind from the charge each school leaver from my high school is given and I quote, " Remember that wherever you go, you carry with you the good name of Starehe…and that in time to come, you will  out of your means…..help others enjoy the same advantage."
With such a conviction at the back of my mind, I have the joy to dedicate all my energy and ability to ensure that I give the best of care, technically, socially and in any other way, to one, two or more of the young people I encounter in this home and in so doing, pass on the noble values that were given to me. Most of these are what have kept me going to this day and I am ever grateful. As for the computers, I am ready to do anything I can to furnish my students with all the skills they need to make experts who can say "I can do it" and not "I know". And to people who toil day and night to sustain the scores of vulnerable young people in Africa and all over the world, you are partakers with God in the work of creation. Only God can reward your selfless support for the transformation you have brought to many.
It is for such charitable organizations that many lives have been salvaged, talents identified and careers developed, a blatant fact that Hanne Howard Fund/Lenana is a more than a home, away from home.