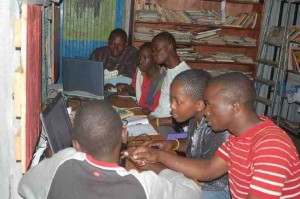 We are excited to announce that we have recently installed power in the compound for the first time ever!
The kids now have lights for studying when darkness arrives in the slum as well as power to run our 2 laptops.
This past month, several of our high school youth have been learning to keyboard under the watchful eye of Patrick, our volunteer computer teacher. The computers are in hot demand and often we see small groups of youth huddled around one laptop in utter amazement! We are looking for more laptops, so if you would like to donate some of your old stock, please let us know.