To all our donors,
I would like to share with you this exciting update about my life, and also take a moment to say how grateful I am to you for enabling me chase after my dreams in school.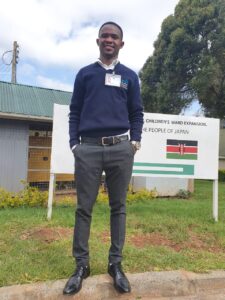 My name is Albanus, a beneficiary of the HHFL programme and I am at the Kijabe School of Health Sciences pursuing a 3 and a half year course in nursing. It is a course that has been a dream come true to me. I am already in love with the career and I am really convinced that after my three and half years stay at the school, I will emerge victorious with the essential skills I am acquiring each day.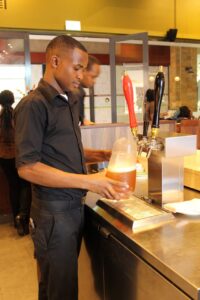 For a number of years after clearing high school in 2013, I had a great desire to take charge of my life after being sponsored by HHFL through high school. I aggresively went from office to office looking for jobs and I landed one at the Nairobi Java House which sells coffee in their chain of shops across Kenya. With no skills, I joined the staff as a steward, and the working environemnt there is good – allowing their staff to grow their skills at work and progress in their career ladder within the establishment. So with time I moved myself up to become a barista and specialized in mixing wines in one of their branches.
I still had a dream that one day I would be in a proper school and pursue a career of my choice, even though I was so much in love with my work as a barista and mixologist. For a number of years I was saving part of my pay in order to start me off in school. Last year is when I finally took the 1st step towards starting school, and I had to approach HHFL to partly support me. I started off with my contributions which I had saved to pay part of my admissions and school fees. I feel very privileged to be a beneficiary of your funding through HHFL and I am giving it my best shot, and trusting myself that I will become a big nurse in the next few years. I have wanted to be a nurse so that I may be more close to people and impact their lives more positively. I am touched by humanity especially with the covid situation in the world, among many other diseases that affet us as humans.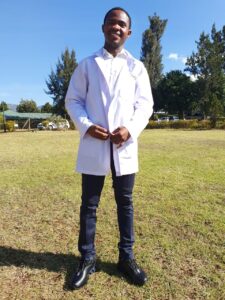 Currently, I am ending my first year and it has been such an exciting experience. We have theory classes and ward rotations with equal time allocated to each. Currently I am at the Medical Surgical ward until early next year and I am getting real hands-on experience under the supervision of our trainers. I also get a chance to be in other hospitals around Nairobi for my practical classes and I can almost predict what the future holds for me. I hope to keep in touch and share more exciting news about this new journey that you are making possible for me. May God keep blessing you and keep us safe.
Wishing all of you happy holidays.
Warm regards,
Student Nurse, Albanus