Written by Isaiah Kirieri
The morning of 22nd October was a special day to our kids where we had a very interactive session with Robert, a 23 year-old scholar from Canada and the staff from Providence Clinic.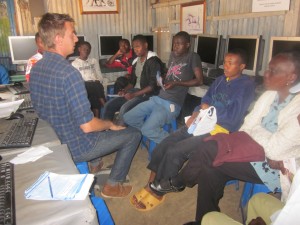 The session was a way for the HHFL kids to express any ideas and/or concerns they had surrounding HIV & AIDS.  Robert observed that most of our kids have significantly more information about the topic, which led to a very healthy and open discussion. Under his captaincy, our kids got furnished with additional facts and Robert cleared any doubts that were not clear to the kids.
Robert was in Kenya during the month of October from Canada as a volunteer and as a student. According to him, he had expected some challenges during his presentation because he hadn't done something like this before. But the informed responses from the kids made him feel so motivated and he had a very easy time to deliver what he had been planning.
HIV and AIDS information is what each of our children is being equipped with to have them better placed to deal with their current challenges and live a responsible adult life. Unfortunately the threat and presence of HIV and AIDS is a reality of every day life in slum environments.
We much appreciate the kindness that Robert extended to us and the knowledge he shared.
This 1st December, we shall be marking the World AIDS Day at the Centre for Study of Adolescents. Our goal is to provide all the necessary avenues to our kids obtaining valuable skills and life values.