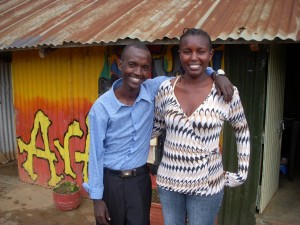 We are delighted to announce that we have recently promoted Lucy Nyambura to HHFL Project Manager. Lucy is a 29-year-old Lenana resident and single mother of two young children.  She has been with the project since 2006. Lucy started working along side Mama Hanne on an administrative level and they started to build their relationship based on mutual trust and understanding. Hanne has spent the past six years training Lucy in hopes that she would eventually be able to lead the project.
Over the years, Lucy has demonstrated her commitment, developed her skill set and proven her abilities. We now feel she is ready to tackle the managerial role and we couldn't ask for a better person to take the reigns. We are very proud of her! 
To support Lucy in her new role, we have decided to bring in some external training and coaching support. Apart from providing personal and business development training, the scope of work also includes an effort to reframe HHFL's organizational structure to enhance our workflow and improve communication. HHFL will benefit from revised roles and responsibilities, a new set of protocols and an updated reporting structure.
Mama Hanne has done a tremendous job of creating a strong and committed team on the ground. We feel the time is right to build on the strength of our current team and position HHFL for the next stage of growth. So far, the effort has been hugely beneficial and we are encouraged by the daily improvements – both on an individual level and as a team!