We have recently accepted a hugely generous donation of 47 computers from Cushman & Wakefield  in Amsterdam. We are now revamping our computer lab to accommodate 16 new and improved computers. In particular, we would like to thank KLM's Jacques Leyssenaar, LFS Life Freight Service's Jochem Stap and Cushman and Wakefield's Willem Bunte for making this all happen! Asante Sana!
Unfortunately we don't have space for all the donated computers in our lab. In an effort to support children in the greater community, we have decided to give 10 computers to Paul Mbui Primary School, one of Kenya's best performing rural schools. HHFL's Computer teacher, Isaiah, writes below about the impact of our gift.  It feels wonderful to be able to share and help other well deserving children in the Kenyan community.
_____
Written by Isaiah Kirieri, HHFL Computer Teacher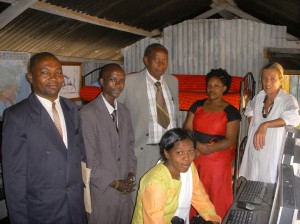 News about the donation of 10 computers has been in the mind of the Paul Mbiu Primary School's management since I first mentioned it to them a month ago. The school, with 526 pupils and 14 teachers, does not have any computers even though it is among the best performing schools in the Gatanga district with 70% of its graduates amassing merit of enrollment into secondary schools all over the country. The school has been leading other schools in the district for a track record of 9 years!
It has been virtually a day-dream for the school to have computers even if it could only be for the staff. This, and it is sad to admit, is the reality with most of the rural schools in Kenya. Computers are a fairy tale to the kids since most schools still do not have access to electricity.
Paul Mbiu Primary School's chairperson, Mr. Jasan Muhungi says, "Paul Mbiu Primary School fraternity feel greatly honored and full of gratitude for donation of 10 computers which will enable our 526 students start IT education. This will prepare them to be competitive in this world full of modern technology. A promise is made that they (computers) will be well utilized for the benefit of the pupils in the school."
HHFL's deed of generosity could be likened to a drop of rain in the Kalahari in trying to bridge the digital divide and move Kenya towards meeting its Millenium Development Goals, with access to ICT services and skills being among the vital pillars. It is our greatest hope that if anyone who has some ability can move towards making some difference to one or two people to help build a world that is pleasant to live in. So be it material support or goodwill, each one of us has something they can offer to someone with little hope of making any meaningful advancement in life. That long journey does not necessarily materialize overnight, but with each single step made in the conscious direction.
Back at HHFL, everyone is always living for the time allocated for their computer classes with our new and improved computers. The lessons are getting more interesting with more of our kids getting exhilarated by the computer lab's new look. Thank you Cushman and Wakefield!
On a light touch, the first question I had to answer after bringing the new computers was, "Teacher, are these our new TV's?" and I just had to respond with equal innocence.