Written by Simon Kanyenze – HHFL Alumnus
It is Simon, once again! I have shared about my life on this website in the past years, and I am here again to share a quick but exciting update.
To bring you to speed, I have been in the HHFL programme for years through my high school days in late 2000's and thereafter to a fitness college where I studied for personal training, fitness and nutrition in 2013.
This year has been a different and special one in my career journey and I am elated to share with everyone about my success. I have been working with a team of fitness instructors at Mazoezi Gym and this year we took a bold step of being featured on national television. "Mazoezi" is Swahili for physical exercise. It is no small fete to me, and I am proud of myself for the progress I am making.
Around mid this year, I had a chance to air an early morning live workout session in one of the big media houses in Kenya, Citizen TV. It was through one of the guys in my team who had been featured for a live workout before he joined our team. For the live show, he needed to be with the best of the best from ourselves and I got the chance to be one of them. Through the show, we attracted a good number of interested clients.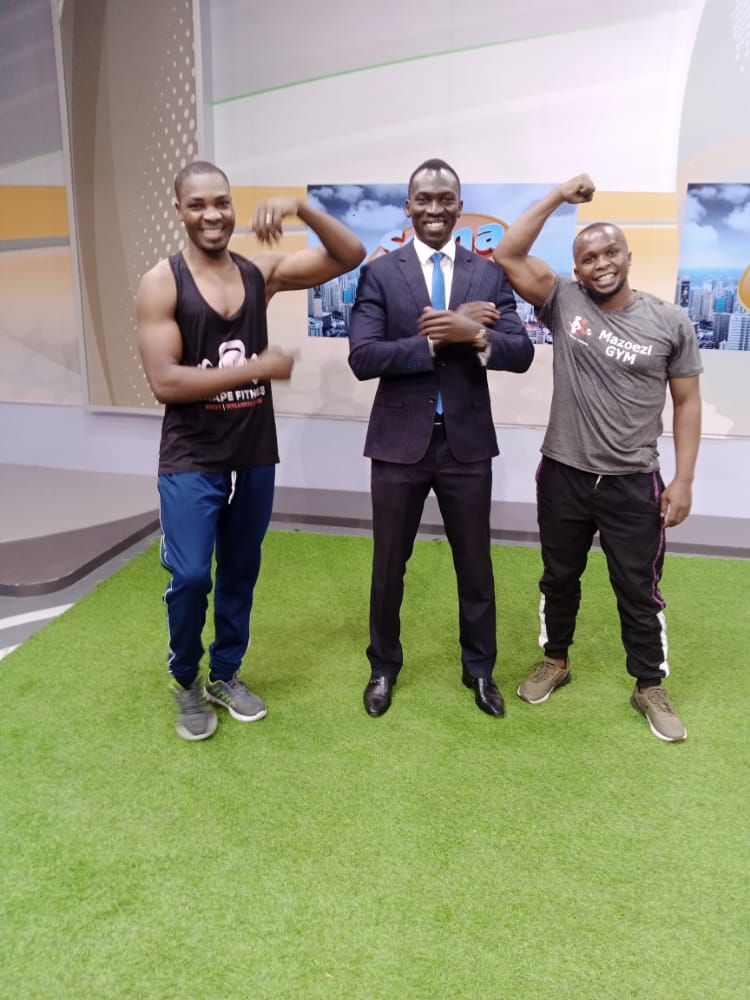 A few months later, I got introduced to the Kenya Lioness basketball team. One of their sponsors is a good friend of mine…and while in a chitchat he got interested in hooking me up with a fitness trainer job for the girls. I did not see that coming, but surprisingly the next day after we had talked, he scheduled a meeting between the team manager and myself. That is how I found myself training these heroines.
Here is a link to one of my live workout sessions:
I give them a variety of trainings ranging from strength training, agility, and endurance training. What I like most about working with this national team is their cooperation, their punctuality when it comes to training times as well as how hard they work when we have sessions. My hope is to be the best that I can be for the team and be given a full contract as the team's fitness coach.
My long term plans are to open my own gym where I can be working part-time and also employ others. I still do not have enough capital to buy the equipment and cover running costs, but I am pressing on towards this achievement. I am very grateful for the foundation that HHFL laid for me.
On the social media platforms you can find me as:
Facebook: Simon Peter
Instagram: Coach_Cymoe_254
I am also on Youtube as: Simon Kanyenze
Aside from my career, I am a family man. I am married to a beautiful wife by the name Bridgit. We have two kids – a girl who is 7yrs and in grade 2 and a boy who is 1.8 years now. I have also adopted another two kids both girls – Faith and Divine. One is 13years old (grade 8) and the other one 3years old. I choose not to be selfish with my earnings but rather educate them. They are from different mothers. Their story is really painful which touched me and I did what I could, knowing where I have come from. I did this with love and not because I am stable. I actually am struggling with everything but no one can tell. I learned a lot from Mama Hanne, Baba Ted, Moyra and my older sister Eunice. They helped me to be who I am today. Lighting a smile on a child's face is one beautiful thing and in future I'll follow Mama Hanne footsteps to help the needy children.
As I conclude, I would like to share with everyone and especially my brothers and sisters at HHFL that no one is barred from going beyond their limitations. The "fire in your belly" and "thinking outside the box" will always open your mind and bring many possibilities in your way (I can never forget this from Mama Hanne and Baba Ted. They used to stress it on us and I am practically seeing it in real life). With a high level of self discipline and putting God 1st, doors can be opened for you.