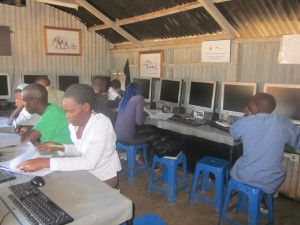 Written by Isaiah Kirieri
The first group of students of the HHFL outreach computer class finally sat for their certificate exam in October. These students have been in class since the month of June. Most of the men and women are in their 20's and live in Lenana slum.
The class experienced a number of challenges, with the major ones being the secondary school students' strike that saw many of our kids being sent home early in July as well as the public schools' teachers' strike that kept a bunch of our kids at home for three weeks in the month of September. During this time and the August holiday, the programme was put at halt to dedicate this time fully to the care of our kids to whom we accord number one priority.
The students desire to complete their studies and be certified is what kept them waiting and could not be deterred by the long time they had to spend away from class. These have been very dedicated and made good use of the privilege that HHFL is offering them to study and be certified right at their doorsteps.
The classes are of great importance to them as it opens greater chances for them to be employed in both private and public sectors. One important distinction between our certification and any that is being offered in many other places is that ours bears recognition within and without the boundaries of Kenya.
Our big congratulations go to our first ever graduates of the HHFL outreach computer program!
The next certificate class will comprise of our very own gap year students who have already began taking the classes as part of their daily routine apart from taking active participation in leading some of our holiday activities for the young kids. This will be very important to them as they await the next step into universities, colleges and to some, their vocational training.