Written by Mama Hanne and Baba Ted 
Yesterday was particularly emotional for all of us at HHFL.  Grison Ngugi who came  to HHFL at age 11 as an abused orphan succumbed last week to TB at age 21.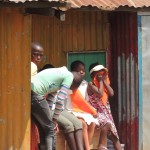 Grison was remembered fondly and tearfully in words from Mama Hanna, staff, St. Nicholas teachers, several of his many HHFL brothers, sisters and other friends. The celebration of his life included a video of his years at HHFL, singing, prayers, a short sermon and a tree planting.
His life was a testament to his own resilience in the face of adversity. His dedication and service to others and utter selflessness were his hallmarks. He was a scout leader, friend, mentor and protector to the HHFL kids. HFFL gave him love, refuge and an opportunity to be the best he could be. He never asked for anything more.  We proudly celebrated his graduation as a welder.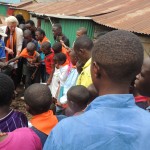 His life at HHFL, his community work and religious devotion (as a warden of the local Presbyterian church) were reflected on yesterday in heartfelt thoughts around the tree planting in his name at "Grison's Reflection Corner". May he rest in peace.