Written by Lucy and Isaiah, HHF-L's Co-admins
We have been thinking of bringing to perspective what our lives have been like from this end of the world, especially considering the new lives we have had to live with Covid-19 all around us.
To get a better picture shared out to our donor network and friends, we posed an open-ended question to the children on what "Doing My Best" through the pandemic has meant to them, and as the saying goes 'Monkey-see, monkey-do' we kicked it off by sharing with them what doing our best has meant this far.
Isaiah:
Like many people from the world, I embraced the covid situation with a lot of uncertainty, and until this time there are many things I may still not understand from a layman's position.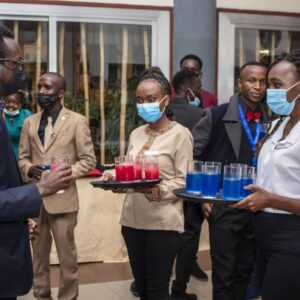 Nonetheless, I took it upon myself to observe the laid-down protocols to ensure my own safety and that of those who are around me. I keep a pack of face masks at home, and I ensure my little laptop bag has at least 3 masks every day.
I have been a bit skeptical about the covid jabs, and for quite some time I did all I could to avoid it. I however had to come out of denial and be vaccinated in September when I received my dose of the Moderna vaccine. I have not been diagnosed with any Covid symptoms, but I did not want to continue living in the dark to only end up endangering other people's lives…especially the very elderly ones that I interact with from time to time.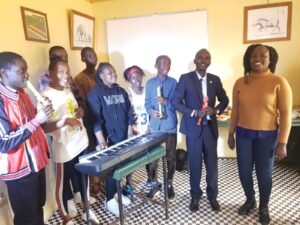 For quite some months last year, things were at a standstill here, with movement restrictions making us stay at home. When the restrictions were lifted, I have had to avail myself on a daily basis to the needy kids who look up to us. We still have to keep the rest of our lives moving while understanding the risks we are living with.
Lucy:
Doing my best during the pandemic means: Listening, taking action and giving solutions.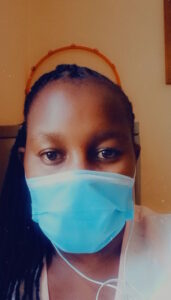 It has been an unprecedented situation for everyone and more so the young ones. They were, and many still are confused. The new way of life and the change in the education system caught many in panic and not knowing what to do. They needed persistent loving, caring and a reassurance that things would in the end turn out good. They had no surety of how to handle the new normal. I have been very available to the children, and I am glad they have known, over time, that no matter what comes their way, there is someone on this end that is ready to listen to and address their concerns.
As far as providing solutions is concerned, I have been in touch with a number of alumni who went through tough times when their jobs were terminated from the effects of covid19. I advised them on small business start ups that they could begin with pocket-friendly income. I am very happy because those that took it seriously are way far ahead from where they began. It gives me great to know that I could be of help to them
From the kids, we picked out some of the outstanding ones, with most of them giving very similar outlooks of their lives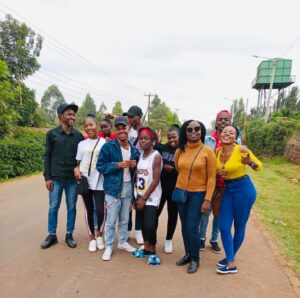 Snorine(high School girl):
I think I have done my best during this pandemic by ensuring that I put on my face-mask everywhere I go. I also wash and sanitize my hands. That has not stopped me from living the normal life I was used to before Covid came. I do all the activities I am expected to do including putting a lot of seriousness in my studies. When we teenagers are allowed by the health ministry to get vaccinated, I will be among the 1st ones because I love my life and I care about the lives of those who are around me.
Muli(high school boy):
Doing my best during the pandemic means obeying the government's regulations on health. Other than that I have also been keeping myself busy by working on my school assignments and revision as I wait for end of year examinations.
To avoid too much free time when I am not in school, I am attending some classes for graphic design. I brand myself as Buffalino Graphics. I am growing my skills every day and I already have done some designs for some clients.
I also travel to HHFL from my brother's house where I am staying with him. I attend daily activities and help my younger HHFL siblings with their homework.
Mackline (high school girl):
I do my best by respecting the covid19 protocols. Covid has also made us appreciate the little things in life and also to be more serious about our future. I have to be strong and work harder to meet my needs.
Rajab(primary school boy):
Doing my best in the pandemic means wearing my face mask all the time, washing hands and keeping distance. I have learned how to manage my time during the pandemic because when we could not go to school for almost a whole year, we had a lot of free time. I would spend more time at HHFL using the laptops, playing board games and also doing my assignments.
Nicholas(high school boy):
I do my best during these covid days by wearing face-mask, keeping social distance and wash hands after touching surfaces. I also try to eat fruits as much as I can so that my immunity is strong.
Brian(high school boy):
The most outstanding thing I have done best during this pandemic is finding something useful to keep me occupied in my free time when I am not either in school or at HHFL. Idleness has got some of my friends into drug abuse and girls got pregnant. So for me I had to help my mum with her small business of selling tea and snacks to get some money.
We want to believe that we have undergone one of the hardest times of our lives as the HHFL family, and in the midst of all the hardship, every one of us has put their best foot forward to still be standing at this moment. We do not exactly know what the future holds, but we keep hope alive as we all continue to give life our best.
We can never forget to appreciate the support we continue to receive from our network of donors and friends. You are the props that have held us up when we could not do it on our own.
From the Nairobi office, we sent hugs to all, wishing you happy holidays and a prosperous 2022!