Written by HHFL's Project Manager, Lucy Nyambura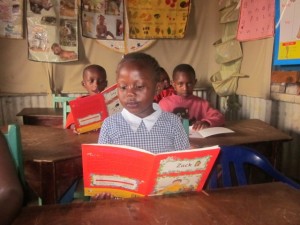 Born in May 2008, Cidella is a product of HHFL from day one having been born into the project since I have been with HHFL from the start. As days became months and eventually years, it was evident that we had a smart cookie on our hands. She started out in our Tiny Tots' Preschool but as time wore on, it became clear that learning near the mother was detrimental as she kept forgetting that she was at school being so close to Mum! Thus the move to Black Beauty Academy last year.
Since joining the Academy, she has been returning star performances culminating in a No. 1 position in class this last term! She promised me that she would work hard and do her best at this school. We are so very proud of her. This is a feat worth emulating – and more so, with determination and a promise coming from a small child, this achievement points to what is possible with commitment, focus and a whole lot of support!
She dreams of becoming a Pilot when she grows up and we at HHFL hope that one day she will be able to realize her dream. From a very proud Mum – BRAVO, BRAVO, BRAVO!!!