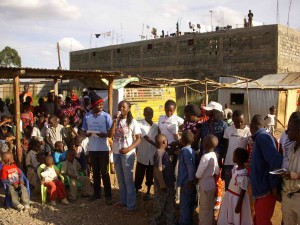 This was the day that the Hannehowardfund/Lenana family was eagerly awaiting for and will never ever forget. We had been working very hard and preparing for this event for over one month and finally the day had arrived. It was thrilling and breath taking at the same time and we were all a bit nervous, specially when the guests started arriving. Only invited guests were allowed into our compound, but the slum residents crowded our gates and stood on the roofs to see our show. Each and every person enjoyed it to the fullest.
This event, for the first time, was to be produced and hosted by the kids on their own. My older brother Kennedy and sister Alice were the masters of ceremony and did a very good job. Kennedy especially loved the microphone. Teacher Nancy provided a very nice sound system for the event. I did not like speaking into the microphone that much, but managed to do so. At first every person was eager for everything to start immediately, but we also felt very anxious. The Tiny Tots were the first to start and presented a skit. Oh! they looked like little angels playing in heaven. After their skit they left everyone's mouth open in amazement.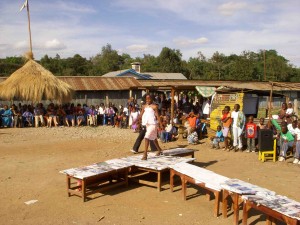 The events took place one after another and everyone enjoyed every part of it. Our drama club, the HHFL Parrots presented a wonderful play written and directed by our Scouts and drama leader, Teacher Peter. It was funny and very entertaining and we all applauded very much. The dance group let by my sister Alice brought lots of cheers from everybody. Simon, a new comer to our project, delighted all of us with the new HHFL acrobatic team. We never thought that our boys could do all that difficult stuff without hurting themselves. The highlight was our fashion show. Wow!!! Did our girls look beautiful as they walked down our improvised gang plank, the boys were cheering wildly.
We also had an art exhibition. All the people thought that experts had made the stuff being exhibited, but they later came to know that the good work came from us, the kids that attend Teacher Duncan's Saturday Art Program where we learn all these different techniques and ways of engineering and building stuff from recycled materials. It is lots of fun! The event was closed by the Scouts marching through our compound in a very synchorinized way and the raising of the Scouts flag. After that we munched on snacks and ate delicious foods cooked by our talented cook, Mama Margaret. The food left everyone licking their fingers. We even had ice cream!
After the event, the kids and all the parents and other guests were dog-tired and left feeling satisfied and happy. All this happened due to the assistance of the sponsors we have and mother Hanne and father Ted. We really express our gratitude to them all for letting us have a place in their hearts. We are already starting to plan next years show and invite you all to come! Karibu!!! (welcome).