My name is Benson Onyango Odima and I am Chairman of HanneHowardFund/Lenana. I was born and brought up in Lenana, one of the slums of Nairobi. In 1984, I joined Ngong Forest Primary School, which is about 1km from Lenana slum for my primary education. Life was tough but ok, until I reached class eight. Reality cropped in that I would not join high school due to poverty unless a miracle happened. My dear mum knew I was bright and that I might pass! She hated the idea of her kids staying home and not getting a proper education. Therefore, she started asking around and got wind of Starehe Boys Centre and School, a well known and respected National secondary school in Nairobi.
As a formality, I filled the application forms. I was told all I had to do was pass my exams really well and I could join Starehe Boys Centre! With hope provided, I worked so hard and passed really well. I got the sponsorship not only to Starehe and but also through college where I earned two diplomas in computer Engineering and Network administration, plus several certificates in Information Technology.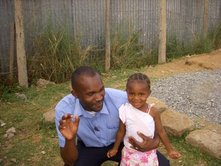 I met Hanne and Ted three years ago when I got a call to look at their computers. That's how I learned about the work of HHF in the Lenana slum. I went through a system which helped bright students from poor backgrounds achieve a good education and career. Realizing that HHF had a lot of HIV orphans and other needy children that could benefit from my experiences, I joined as a volunteer and became a mentor and role model to the children in the HHF project. I am honored to have recently been appointed the Chairman of Hannehowardfund/Lenana, the community based organization, which manages all of the programs funded by HHF and other donors.
Education is the key to many things, so I encourage the HHF children to make the best use of the educational and other opportunities provided them. I believe that you cannot dream yourself a character, but you must hammer and forge yourself one!