Written by Nancy and Zilpa, HHFL's Tiny Tots teachers
Our August 2012 school holiday has been one of the unforgettable events to the entire HHFL community. It has been an exceptional one, particularly because for the first time, we have had Mother Hanne and Baba Ted spending the holiday with us.
Visitors and volunteers have always been an important part of us, and during the holiday we had many visiting and helping us.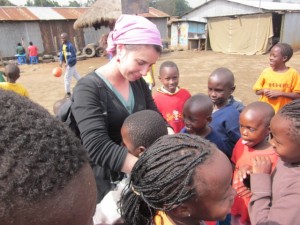 Tindy, a university student and Erica, a 15 year old form V student from Nairobi International School spent a good part of the holiday with the kids, helping build upon their oral communication skills. Their input has been of great importance and teaches our kids the importance of giving back to the community.
Claire Peloffi is a PhD student from France who also spent days with the kids throughout the holiday. She was kind and a very talented volunteer who also helped the younger kids with their English. We are all striving to ensure that HHFL kids get proficient in English. Her wonderful skills in teaching and record keeping were evident in how she conducted her classes and presented her findings to the Management Team before leaving for France where she is proceeding with her profession.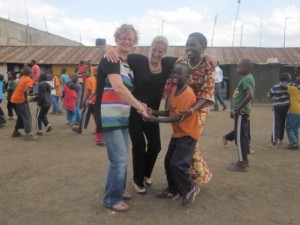 Jackie Murray was also another very important volunteer who arrived on 24th July from The Gower School in London and spent almost 6 weeks training HHFL's Tiny Tots preschool teachers while working with the kids. Jackie is a highly trained and experienced Montessori early childhood educator.
She helped us arrange the classroom together with the equipment cupboards in such a professional manner. She also shared new ideas with the teachers on how the children can exercise the freedom of choosing activities to do on their own, with close observation and assistance by the teachers.
Story time was an event each of the kids always looked forward to during Jackie's stay. She told wonderful stories to the children and each of the children were given a chance to express themselves.
She introduced us to the "special helper" concept whereby children participate and help the teacher in class e.g. serving food and telling others to make a line. What a super way to teach kids about responsibility even at such a young age.
Jackie was also good at taking the kids for nature walks into the neighboring Ngong Forest and everyone enjoyed these very much. She would often carry a camera along with her, being careful not to miss a photo of the kids having fun as they collected flowers. They did bark rubbing, stencil drawings, and if they got lucky enough, they would encounter a troop of baboons!
The last day of her stay with us was full of happy memorable events: beginning with a small party with the kids. This involved cake cutting and dancing. Her presence here will always be felt in the way she left everything in order and her total professionalism. And for the sweet memories of her stay here, she put together a photo album of all the events that she shared with the kids including her visits to the parks and all the wonderful animals we got to see. We miss you so much!
Thank you to Jackie, Tindy, Erica and Claire from the bottom of our hearts. We love you all.
We hope to see you again soon!