Written by Ted Horton
Hanne and I had just returned from lunch with Roselyn, a real ambassadress for HHFL, on staff at Strathmore University. Roselyn runs the community outreach program at Strathmore (Mercy and Ngina, 2 of our young women, attend Strathmore). Our discussion focused on implementing a mentoring and training program (run by Strathmore students) for our HHFL high school students during holiday breaks, starting this December. We believe this type of program can really add to the holistic development of our kids! One step at a time, and if it does what we expect, we plan to expand the offering in April of next year to our younger kids in Class 7 and 8.
I thought my afternoon would be devoted to moderating a debate on the 3 week old public teachers' and doctors' strikes, and discussing yesterday's by-election results (in 3 key ridings) and their possible impact on the Kenyan national election slated for next March!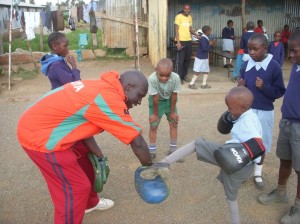 Instead I found Salim, a gentle, bull of a man (kick boxer and his 2 kick-associates) ready to give us a kick box primer. Our younger kids at the project have already had several of Salim's training sessions (we witnessed an impromptu demonstration; verdict–these kids are impressive!).
Kick boxing! I should stick to piloting. Our first taste of this "manly" art/"sweet science" left us a tad breathless but not totally out of wind for the more academic debate that followed. Thanks again Moyra for introducing Salim to HHFL, and thanks Salim and your crew. You are a big hit!
When we discussed the by-election results, I took the opportunity to share some very thought provoking statistics gleaned from Roselyn over lunch. There are over 820,000 Public Primary school students in Standard Eight (final year) and over 430,000 Public Secondary students in Form 4 (final year). Of these, only 11% of the Primary school students will go on to Secondary schooling, and a mere 2% of the Secondary students will move on to post secondary education!
Kenya has a population of 40 million, 75% of whom under age 25. It appears that most of these young men and women are not getting the vital education they need (and deserve). Does anybody smell smoke?
So our kids now know (if they didn't already) that they are amongst a small and very privileged segment of young Kenyans, who have the educational opportunity (and a commensurate responsibility) to bring about positive change in Kenya.
Tom Musilli, another of our HHFL directors, arrived late afternoon and we finalized an 8 week attachment for Kennedy Otieno who has been with us for 7 years and has just completed module 4 of his IT training at CFSK. This attachment will set the stage for a promising career for Kennedy.
We left around 6:15 for home as the sun was setting and the kids all accounted for— all in all, a very productive day.