Written by Isaiah K, HHFL's IT & Communications Admin
Among many things that HHFL celebrates, is our ever-growing number of alumni. These are adults who have gone through the HHFL system to attaining self-reliance. Most of these are either in their 1st or 2nd jobs, while a few are still tarmacing.
The alumni are important members of the HHFL family, and they are actively involved in the day-to-day affairs of HHFL. They do find time to come back home and spend time with their younger siblings who are in schools, and such is what happened during the June school break.
Our primary school and high school kids were blessed to spend a weekend of interactive and motivational talks from their elder siblings – Steve, Daniel and Cedric. The three coincidentally found themselves in the compound after being given their off day on 8th June.
Cedric is a certified nurse working with the Lions First Eye Hospital here in Nairobi, and he is very interested with corneal harvesting. His previous assignment was with orthopedics and he learned a lot about bone injuries and treatment. He has been in the programme since 2006, receiving care and education to be the fine nurse he turned out to be. He graduated a few years back from the Presbyterian University of Eastern Africa. He attended his high school studies in Kiarithaini High Schol. During the heart-to-heart, he shared with the kids his work experiences and study tips to the high school kids in improving their grades, especially in Mathematics
Daniel Safari has been in the programme since 2012. He is a current 3rd year student at Masai Mara University. He cleared his O levels at Njumbi High School with clean grades that got him enrolled into the regular degree programs for Economics and Statistics. His hardwork earned him a partial scholarship, and we are doing our best to fund him for the remainder of his expenses. He is a smart brain, and he has enrolled for CPA studies to reduce idle time. He was impressed to hear from the primary school and high school kids about their improved grades. He encouraged them to stay focused and to choose good company in school.
Steve is an employee of Java House – a chain of restaurants that is famous for its coffees and state of the art delicacies. He began in the lower ranks of a steward, and has risen to be a valued barista. He is now in a special team that collects and tastes coffee berries from across Kenya in order to recommend the best source of Java's coffee. He too has been in the programme since 2006, and is a graduate of Karen C Secondary School. His job skills have been acquired through practise, and he is never settling for anything less than the best. Steve reminded the juniors about the importance of practising self-respect and respect for others, and obeying the various rules/code of conduct that we encounter in our various life's assignments.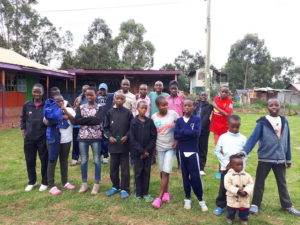 The children had gazillion questions out of curiosity from what the big brothers were sharing with them about their jobs and personal lives. It was a very warm afternoon to all, and hopefully one that will be treasured by the younger ones as they too strive to make it in life. It is the principle of "Monkey-see, Monkey-do" and we are proud of the family ties that are never broken between HHF kids