Written by John and Cedric, HHFL's high school graduates
This year we were lucky to welcome Joan, a wonderful lady to the project. Joan was introduced to us by Moyra, one of HHFL's Board Members. Joan introduced to us the concept of permaculture and sustainable agriculture using simple implements that could otherwise be considered as waste. She also taught us to grow a variety of crops in our compound.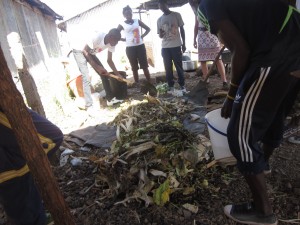 Every session we had with Joan was a great opportunity to learn. She proposed different ideas on how to make good use of our compound. Our first project was to make a home made compost for a small garden. Making compost was like turning waste into treasure! In the process, our team spirit was enhanced while we cooperated together and completed the project. This was a wonderful experience for us all!
Our second project was establishing a nursery for our seedlings. Within a few days the seeds had already germinated. We had planted different kinds of vegetables for example; kales, carrots, tomatoes and beet roots. We also planted a passion fruit in the compound and we are hoping to turn the place into a green zone. We learned different farming methods which are cheap and easy to maintain. It was encouraging to be able to achieve all this. She also pointed out to us why we needed to plant marigold together with our crops. This is because the weed is insect repellent and will drive away any pests that try to attack our plants. The idea of growing things in patterns, according to her, is that insects have visual impairment when it comes to patterns and would easily recognize a plot with only one kind of crop. These are amazing facts we have never known before!!!
In the mean time we are looking after our plants and hoping to have a successful harvest. This one of the best experiences we have had this year. We have learned a lot and we appreciate Joan for her time and kindness. We are certain that we will have a wonderful harvest and perhaps prepare a big party from the crop!