Every day is learning time for me. I see different things everywhere I go in the slum. I feel I am changing and becoming different from other slum residents. Their waste materials have become my working material, what they take for granted I take seriously and as they get used to ghetto life, I'm doing away with it. This is what the HHFL project is doing for me and our kids.
As the Art Director of the HHFL the success of our art program depends on me. This is how my simple thought combined with the enthusiasm or our kids, practicality and hard work turned into an amazing work of art. The teachings in our project emphasize standard and the need to clean our environment. The word recycling is new to us and the whole concept is just starting to catch on.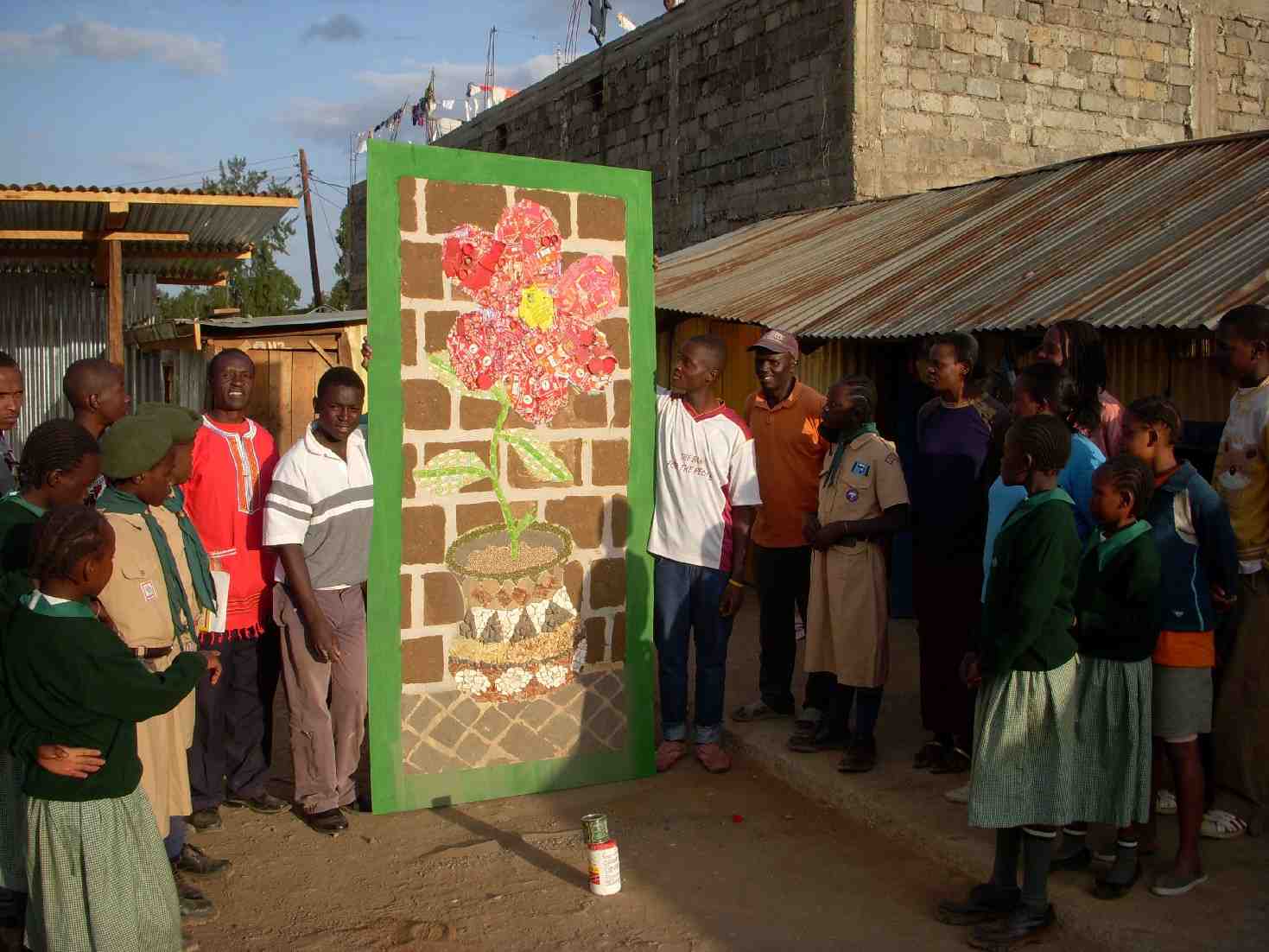 Therefore, I decided to direct our kids' attention in this direction and for the next couple of weeks, we spent a great deal of time collecting and sorting through garbage. We collected phone cards, sweet wrappers, empty cigarette and juice packages, old cloth, bottle tops, old mats, broken tiles and much more. To this we added stones, sand and sawdust found in our own compound. The only bought materials were a sheet of plywood and 2 litters of wood glue!
Finally we were ready for the real fun to start! It took us 4 days to arrange and stick all these 'useless' things onto our plywood sheet. As our art work started taking shape more and more slum residents started gathering to witness our progress. Ted, Hanne, Marianne (who visits us every year) and even Benson (our new BOD chairman) spent more and more time admiring the work and encouraging us. It was so amazing!
We all were very happy and proud with the end result – a lovely red, yellow and green flower that graces the art room. This beautiful piece of art isn't only a bright red flower, but is also serves as caution and encouragement. It speaks of possibilities and has taught people that they can help safe the environment by re-using waste. It taught us that you can save money as you do not have to buy everything to create something beautiful. It also encourages creativity, team work and in the case of the cigarette packages we learned about the dangers of smoking. The warnings on the packages taught the kids that smoking can give lung cancer, something they didn't know before.
All of you reading this blog are invited to come and visit us at Lenana. KARIBU..Welcome!
Duncan Muindi, Art Director HHFL