Written by Simon, HHFL Acrobatics Teacher
The departure of Marketa, a wonderful volunteer who has been with us for the last 2 weeks and is the representative of one of our strongest supporters, Humanitas Afrika,  prompted this outing.    We wanted her to see something else besides our project, something uniquely African and when Mama Hanne suggested a visit to the Sheldrick Elephant Orphanage we all knew that was the thing. Mama Hanne picked us up early on Tuesday morning, and 8 lucky and very excited Tiny Tots (between the ages of 1 and 4) where piled into the back of her car.   From the staff side only Lucy and I were chosen to come along due to space constraint.  We both felt equally lucky as we never had seen a real elephant either.
The trip from the slum to the Nairobi Park gate entrance in itself was a true adventure for the kids, as none of them had ever been in such a car nor been much outside the slum.   They were amazed at the things they saw along the way and excitedly pointed them out.  They sang songs and giggled all the way.   It was so much fun seeing them so happy and excited.   Marketa taught them new words and pointed out all the lovely flowers on the way.   The kids never new so many different types of flowers existed.
The kids caused quite a stir once we arrived at the parking lot of the Sheldrick Orphanage as the place was filled with tourists and they all wanted to photograph our kids who, in an orderly line, marched and sang their way to the entrance gate.  Quite the sight!  We were very proud of them, but we could see that Mama Hanne was even prouder.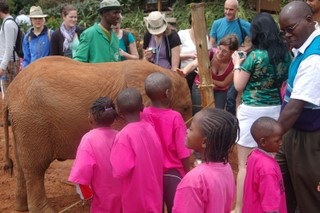 The children and even us were surprised and amazed to hear that the elephants were also orphans, like many of us!  We thought only humans qualified for this.   The baby elephants arrived through the bush with their keepers marching in a neat line very obediently, very much like our children and this the kids found fascinating.  Other gatekeepers were waiting for the babies with huge  baby bottles filled with milk and as soon as the baby elies saw them they broke ranks and start running towards them.  We all were amazed to see animals being fed just like baby humans and we were astounded to hear that this little babies need exactly the same type of care as a human babies.
After they drank their milk, the elies proceeded to play in the mud and water hole as they must cover their bodies with mud in order to avoid sun burns.  In the wild their mothers help out by throwing mud at them with their tusks, but here the keepers do it with a shovel!!!  The elies loved it.
We were all enthralled watching them play when all of the sudden the elies started coming towards us (we were standing behind a thick rope) We were surprised and fearful at first, kids and adults alike because even baby elies are rather big,  but we soon realized that the elies wanted to play with us!   They came very close to us and allowed us to touch them and play  with their trunks.   But soon the fear disappeared and even our little Cidela (18 month) and Nasur and Rajab (2 ½) got close to them and mustered enough courage to touch them.  The bigger kids really got into it and all wanted to hold their little trunks and play with them.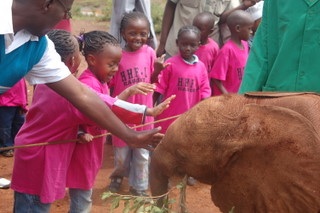 Dida is the oldest of the elephant ophans at 29 months and she has become the matriarch of the group who bosses all the other babies around and they obey her.  We could see that she is very vigilant and takes her motherhood role very seriously.   The youngest is Mwenzi who is four months old and was rescued from a watering hole where he had fallen in.   In total there are 20 orphans at Sheldrick right now and without their care these babies would never have had a chance at survival.  Once  again, we were struck by the similarities of our existence.   HHFL as Sheldrick is our chance at a better life!
A great day, lots of fun and much excitement was had by all, but we also learned lots. I am looking forward to taking all of our kids to the Sheldrick Orphanage and exposing them to this wonderful experience. Asante sana to all the people who made this trip possible.   Farewell Marketa, and we hope you come back soon.