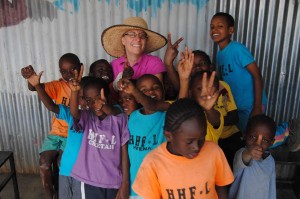 It has already been a month since my partner Victoria, our 13 yr old son Russell and I left the orphanage in Lenana where we spent a week helping out in the classroom, the kitchen, and wherever else we could be of "use". More significantly, it has been a month since we've been with the children of the HHF – their bright eyes, their smiles, their tremendous spirits and their lightness of being – remarkable to me when they are surrounded by such adversity. We've spent the weeks since our departure thinking about the kids we got to know , the adults who pour their heart and soul into to making a difference for these children, and about how and when we can get back to Lenana!
We decided as a family that we would spend some part of our African holiday "giving back" during our visit. We made contact with Hanne just before we left Canada and got Lucy's coordinates. Never having done this type of volunteering before, we weren't sure what to expect, but thought we were ready for anything! What we didn't anticipate was how quickly and warmly we would be welcomed. From the moment Lucy greeted us out at the road and walked us in to the HHF compound we felt part of the HHF family in Lenana. And, just having met Hanne and Ted last week, we get a sense of where this comes from! We also didn't anticipate the impact that the children would have on us – they stole our hearts! I think we all experienced levels of joy mixed with sadness – it is impossible to overlook the surroundings in which HHF is operating. The future is bleak for many adults in the slum, and the environment is full of danger and risk for children. This, for me, was tempered by the real impact that Hanne and Ted (and family) are bringing at a "grass roots" level to these children – nutrition, clean water, health, education, and love. These add up to hope and opportunities and ultimately, a future beyond the confines of the Lenana slum.
| | |
| --- | --- |
| | |
While we only volunteered at HHFL for only a week, we've come away with an experience that will stay with us for a lifetime. It is an experience that will spur us on to do more with HHF – having seen the real impact HHF is making in the lives of these vulnerable children. We will get back to Lenana, and until then the children and adults of HHF will be in our hearts!
Andrew, Victoria, Russell Norgaard