Last week we had a great fundraising and awareness building event in East Greenwich, Rhode Island. This was our first event for Friends of Hanne Howard Fund US since our incorporation as a US non-profit. Held at US board member Isabelle Tadmoury's house, it was a combination of cocktail dinner with presentation and silent auction.
Our objective was to fully sponsor Ian Peter and Lymphia Muhonja by selling tickets that represent all the elements of what it takes to care for these kids during the course of a year; including transportation, health care, uniforms, after school activities and school tuition. Not only were we able to sponsor Ian and Lymphia but we found sponsors for 5 other children as well. In total, we raised over $8,000!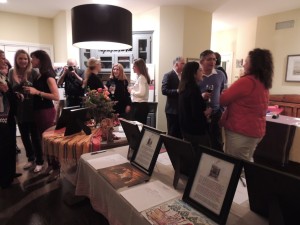 A unique mix of nationalities and many local physicians were on hand to attend the evening. Paintings made by HHFL's talented youth artists were the highlight of our silent auction, where some pieces went for as much as $110.
We'd like to pay special thanks to our co-organizers, Holly, Edda and Heather. It was a wonderful evening to bring awareness and support for the HHF cause. We hope this will be the start of many more activities in the United States!
For more information on how to support one of HHFL's children, please visit Sponsor a Child.