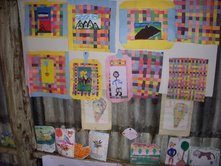 I'm Duncan, the art director. I love art, especially oil painting and glass work. I've been helping the children for a long time in arts. At first, I found it very hard to work in the slum, but I have started having a lot of fun every day after learning to be more disciplined and team orientated. Through the availability of materials and new techniques we have managed to get far with art and craft work!
Through the use of the materials many of the kids have discovered their artistic talents as a result of the practice we have done. Two of our donors (Ron and Stephanie) visited us recently and provided us with knitting materials and woodwork tools. Ron taught us how to make picture frames and simple furniture.
Today I feel encouraged because he said that he saw potential in Simon and I and added that he hopes we will pass it on to the young stars!