We recently received an Academic Scholarship from The First Group in Dubai. This important scholarship has given four HHF kids the opportunity to attend 'top tier' Universities and Colleges in Nairobi for one year – one of whom has recently been awarded a paying job as a faculty student assistant! These are a very exciting opportunities and we'd like to share some of their current experiences with you.
Here are some excerpts from the kids:
Mike Bundi: Attending his 1st year at the Kenya School of Monetary Studies
"After deciding to pursue a career in Banking & Finance as a result of our Career Week, I went with Mama Marianne, Mama Hanne and Baba Ted for an interview at the Kenya School of Monetary Studies. This blew my mind!  I never dreamed a kid like me could attend such a fine school and was stunned when they accepted me.  The campus is amazing with a fabulous computer lab and even a huge swimming pool!   I want to dedicate my success to The First Group and also, to my foster parents, the late Dr. John Atkinson and his wife, Anne who came to visit us in 2006."
Alice Adhiambo: Attending her 1st year at the Amboseli Institute of Hospitality
"I graduated in November 2010 and was at loose ends as no matter how hard I tried, I could not find a good fit for me.  I spent much of 2011 volunteering at HHFL where I helped Lucy with the everyday running of the project.  I learned a lot about management and administration.  I also did a certificate in counseling, which I enjoyed and has proven quite useful. But this also confirmed that nursing, a career that I was entertaining, wasn't for me. During Career Week at HHFL, I found my calling – Hospitality and Tourism! Subsequently, I enrolled and was accepted at the Amboseli Institute of Hospitality. I am truly enjoying my new college life.   I miss home (hostel at HHFL), but I am loving campus life. This is a total privilege as kids from my background rarely go this far.  I love The First Group for making this possible for me! "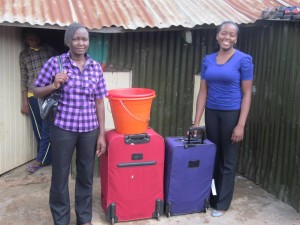 Mercy Achieng: Attending 1st year of a Bachelor of Commerce degree at Strathmore University
"Not in my wildest dreams did I think I would end up in such a fine institution and pursuing a full degree to boot!  When Mama Hanne, Mama Marianne and Baba Ted brought me to visit Strathmore, I was blown away but also totally intimidated.  The place is beyond amazing.  Mama Hanne said she felt like she was in Toronto!  The buildings are new and shining.  The cafeteria is amazing and the computer lab beyond anything I ever have seen and all the kids are smartly dressed.  When I learned that I could attend this fine institution because of the generosity of The First Group, I was speechless. 
My hostel sister, Ngina, is already attending Strathmore, which has made my transition easier.  We live together in a hostel that is a block from University. I have adapted to life but it hasn't been easy! In school, we speak English making it important for me to perfect the language. I enrolled in a communications skills class and this is helping me improve my ability to express myself in front of people.  I also joined the Community Outreach Program.  
Over the past term, I have been assisting Miss Roselyne with basic office work. I am at an advantage because I learned many skills from Lucy at HHFL. Two weeks ago, I got my first paying job with the Faculty of Management and Commerce in the university as a faculty student assistant! I have opened a bank account with Kenya Commercial Bank just few days ago, something very new to me, got the health and security insurance number now that I am an employee. I signed a contract until December on a monthly salary of Kshs.10.000.  I am proud to be able to contribute toward my school expenses."