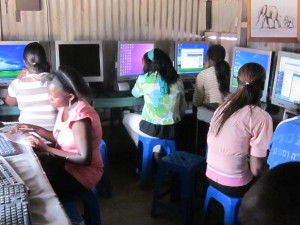 We have opened our doors to the people of the Lenana community to undertake free Module One computer training and certification on a weekly basis.   Isaiah, HHFL's computer teacher runs the computer classes with help from the older HHFL kids. This program is a pilot initiative to gage the level of community interest and HHFL involvement.
So far, the majority of attendees have been female. In fact, our current ratio is 8:2! The men and women of Lenana arrive each week with a burning desire to learn but due to space limitation, we can only take a handful at a time. We already have a waiting list!
Apart from giving back to the community, this effort forms part of a broader HHFL initiative that requires our older kids and graduates to volunteer at the project during their gap year. This initiative is meant to foster a sense of responsibility for the younger kids as well as provide another avenue for learning.
 " I am happy to help Isaiah, our computer teacher in training the outreach class because it is giving me a chance to exercise authority and also gain more knowledge through what we are teaching them." – Lydiah, attending Ashley's Beauty Course