Wesley Odiri (third from left) writes about a recent HHFL scouts' trip. As this goes to post, another group of our scouts is about to leave on the same 3 night outing. Simon (pictured with Wesley's group), and Lucy, on the HHFL staff, have just returned from a scout leadership training course. More of these are also planned. Enjoy !!
Written by Wesley Odiri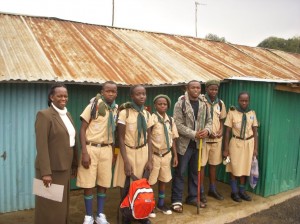 " It was on a Wednesday evening when I and some of my fellow scouts were informed that we were to go for a training camp in Naivasha. We had ants in our pants but not all of us were to go, only five of us. Promptly, I rushed home at the speed of a charging buffalo and informed my biological mother who helped me pack my garbs.
Finally, the next day arrived. In that nippy and gloomy morning I was in my best bib and tucker-that is the scout uniform. I had rushed to the project and we were given some other things. In the small wee hours, we set off to a place in Kawangare called C.D.F. We waited for the bus for some hours but nothing came. Then we went to fill our empty stomachs which kept on rumbling with hunger. Fortunately around 4 o'clock the coach came. We dashed in and took our seats.
The trip took hours to reach Naivasha. It halted and we alighted from it. We took our bags and suitcases and entered the school. We were frog marched to the dormitories and told to choose beds. We met with some other scouts from different schools and mingled together. We made friends and knew each other a lot. In a nick of time we were to the dining room where we ate dinner. After the delicious meal we went to sleep because we were dog tired.
When it was dawn we woke up and went out for a morning run. Truly the morning run was boring because of waking up very early. We then went for a bath. After bathing we went for breakfast. We then took our books and went to classes. We learned a lot about scouting. When it was mid-day, we went for lunch. Then we went swimming at a place called crayfish. We swam and returned to the campsite.
On the following day we had a dancing club. He! People danced vigorously and the winning scout would be awarded. At night we had a campfire. This event is done when some scouts want to depart a camping site. We danced and acted according to our patrols.
The following day we had our breakfast and went for morning devotion. Then the scout leader, Mr. Abdallah, awarded the best scouts in different events. The HHF organization had a large number of qualifiers. We returned to our dormitories and packed our things. When the bus arrived we boarded and departed for home.
I thank the HHFL organization for making the expedition possible! "