Patrick is our volunteer computer tutor. He trains the kids in the after school program and during school breaks (April, August and December). Patrick's background, drive and achievements and his positive "can do" attitude make him a very strong role model for our kids. Here's his story in his own words:
Written by Patrick Wainaina, volunteer computer tutor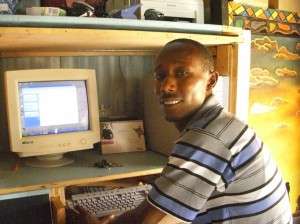 My name is Patrick Wainaina and I was born on May 1st, 1981. I grew up in Dandora slum, Kenya. My mum gave birth to me when she was seventeen.
I grew up with my grandmother and her five daughters. My mum was the eldest and she had already secured a job as a house girl in Parklands. She was working for a German family who also assisted in paying my school fees.
I remember back in 1990 when my mum started falling sick and she was in and out of hospital frequently. I used to like my mum so much for so many reasons. She used to listen to me and gave me advice that up to now I find useful in my life. For instance she asked me to treat all the ladies with respect and if I was chosen by one I should stand up and be a man.
I thought I was too young for that kind of advice then but now I do appreciate it because I already have a girlfriend (Rose) and we are getting married next year in 2011.
I still recall 13th June 1991 when my mum passed away. We were just the two of us at home and since she was bedridden I served her breakfast on bed. I gained enough courage to ask her the condition of her health and up to now I still recall the final words my mum told me. She asked me not to indulge myself in my premarital sex otherwise I would end up like her. She told me that she was suffering from a deadly disease called HIV/AIDS. She sent me to bring her a glass of water and when I came back my mum was no more.
My aunts were in secondary and colleges and so my grandmother could not afford to pay for my school fees and in 1994 she took me to St. Nicholas Children's Home in Karen. I completed my High School in 2001 and got a mean grade of B- and later joined Daystar University. I studied Computer Science.
The best lesson I have learned in life is to give back to society. I am currently working at St. Nicholas primary school as a computer tutor. St Nicholas is where I lived for several years and where over 20 of the HHFL kids go to school. I am also working as a volunteer at HHFL helping them to learn the computer.
I would like to thank St. Nicholas, HHFL, Church of Apostles and all the donors who support St. Nicholas and HHFL.
Thank you so much for putting a smile on the faces of the needy children in Kenya. May God Bless You all.
Patrick Wainaina